Ranking the three High School Musical movies from worst to best
The High School Musical movies have been around since the early 2000's and have managed to still find a way to be relevant.
All three films are zippy, goofy, wonderfully endearing time capsules. In the High School Musical franchise, the cynic has no place and squeaky-clean sincerity is the name of the game. With my high school career ending right around the corner, I figured that to end my senior year I would re-watch the highly popular 2000's High School Musical trilogy and rank them.
3. High School Musical 3: Senior Year
The only film in the franchise to debut in theaters, High School Musical 3: Senior Year, saw director Kenny Ortega swinging for the fences, with a souped-up budget and higher production values. Centering on the gangs last year in high school, this is the most reflective and emotional of the series, as Troy, Gabriella, Sharpay, Ryan, Chad, and Taylor ruminate on where they've come from and where they're going in their final spring musical.
Zac Efron's Troy is given the biggest arc, reprising his dilemma of choosing between basketball and theater, except now on the more macro level of facing the real world. That "macro" approach is true throughout; Sharpay and Ryan sing at one point about how "Bigger is better and better is bigger," but that doesn't always apply to this entry.
Catchy and fun as they are, most of the numbers are just blown-up versions of superior songs from the original two. Gabriella and Troy have their typical romantic ballads, Gabriella has her moody (and honestly skip-worthy) solo, and there's a full company finale that tries to supplant the gleeful pyrotechnics of "We're All In This Together" with bittersweet sentimentality.
Of the new songs, the standouts are Efron's "Bet On It" sequel "Scream," a tortured ballad that combines the star's incomparable commitment to the absolute ridiculous with a heavy metal riff on Fred Astaire's dancing on the ceiling number from Royal Wedding; and the Sharpay and Ryan blowout "I Want It All," a shameless ode to excess that both acknowledges and has fun with the film's expanded scale.
The rest is still breezy entertainment, but largely missing the small-scale charm that made the original such a watershed hit. This one is for the diehard fans, and those who grew up with the franchise are likely to shed a few tears watching the gang grab their diplomas and join in song one final time.
2. High School Musical 2
The High School Musical phenomenon was so huge that when its sequel debuted in August of 2007, it broke just about every record in the book. Fans of the original had little reason to be disappointed.
High School Musical 2 features the return of the entire original cast, transplanting them to Sharpay's country club, where Troy has gained employment for him and his friends for the summer.
The plot's conflict largely revolves around Sharpay's attempts to sabotage Troy's relationship with Gabriella and claim him as her own.
There's a bit more drama in this one, more conflict and character shading for the supporting characters, particularly Ryan. The songs veer more toward over-produced dance-pop than the charmingly simple, melodic tunes from the original, but there are still plenty of highlights.
"What Time Is It" is the best opening number of the entire series, a "school's out" bop that instantly roots the audience back in the squeaky-clean innocence of the franchise. Sharpay's solo, "Fabulous," is an underrated bit of diva pop, and "I Don't Dance" a Damn Yankees-meets-hip hop showcase for Corbin Bleu's Chad and Lucas Grabeel's Ryan, is as instantly catchy as it is an impressive feat of choreography.
Of course, the piéce de resistance is Efron's "Bet On It," simultaneously a sublime piece of high camp and a testament to Efron's innate movie star charisma. While it can't quite reach the bubble-gum high of the original ("Humuhumunukunukuapua'a" is a series low point), High School Musical 2 sees Ortega and the cast returning with giddy confidence that's still somehow infectious.
1. High School Musical
It's hard to overstate just how much a bolt from the blue this film really was. In 2006, the Disney Channel Original Movie was a cuddly tradition for young millennials, a weekend event for tweens who were just a hair too young to be out at school dances or riding around town with friends.
However, no DCOM had ever performed as well as High School Musical, which debuted at 7.7 million viewers and instantly became a generation-defining phenomenon.
It's easy to see why; HSM took the public's renewed interest in movie musicals brought on by films like Moulin Rouge! and Chicago and repackaged it for a younger audience, igniting in them a passion for performance and musical theater that continues to this day.
It's easy to call High School Musical "dumb," but that's missing the point. The entire film is a rejection of the cynical and an embrace of the earnest. It's also an incredibly well-executed story of marching to the beat of your own drum, populated by a diverse and game cast and filled to the brim with non-stop earworms.
"Start of Something New," "What I've Been Looking For," Get'cha Head in the Game," "Stick to the Status Quo," and "Breaking Free" are all tuneful, shimmering hits, and "We're All In This Together" instantly became a triumphant anthem of togetherness for the ages. High School Musical taught an entire generation that singing and dancing don't have to be lame, and to this day it still is capable of slapping a smile on viewers' faces from beginning to end.
Conclusion
Overall, all three of them were good in their own right. I came into this believing the third one was the worst, and while I still believe it is but it was better then expected. The other two were as good as I remembered. I enjoyed seeing them all grow as characters and the characters development continued through all three movies.
About the Contributor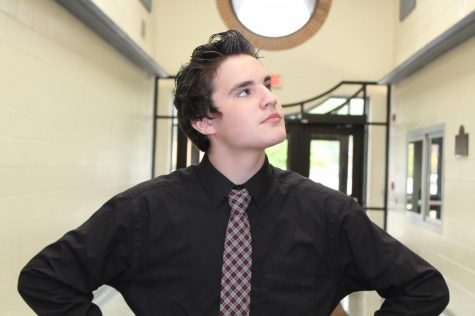 Jonathen Hart, Managing Editor
Class: Junior

Hobbies: Studying law and politics

Future Plans: I plan to become President of the United States of America.

Favorite Book: "Barack...