Asaro-Nolan brings the laughs
A Kearsley Hornet for all of his life, senior Ashton Asaro-Nolan tries to enjoy each day as much as the last.
Nolan is an approachable student that likes to put a smile on people's faces. 
He describes himself as an outgoing, kind, and funny person.
Junior Malaya Stevenson agrees that Nolan is humorous. 
"He's funny," Stevenson said, "very funny."
Nolan tries to make friends with everyone he meets.
"It's important to be kind to everyone," Nolan said. "If you're not nice, it builds a reputation for yourself and nobody wants to talk to someone who's rude."
Senior Raegan Duffy, a good friend of Nolan's, agrees that he is an amicable person.
"No matter who it is," Duffy said, "Nolan would do literally anything to make them feel welcome."
In his free time, Nolan enjoys playing video games. 
"When I have free time, I like to play video games with my friends," Nolan said. "It's a fun and chill way to pass the time."
One of his favorite video games is "Call of Duty: Black Ops III."
"It's my favorite because it reminds me of a time when all of my friends would get together," Nolan said. "We would get online and play for hours." 
One of the things Nolan enjoys most is fishing. 
"Fishing is a good stress reliever," Nolan said. "I just like how simple it is."
In the future, Nolan will attend Lansing Community College to become an electrical line worker.
"I've always wanted to do something that's hands-on for a career," Nolan said. "I've just always been intrigued by electricity."
He hopes that when he leaves he will leave a good legacy at Kearsley.
"When I leave," Nolan said, "I want people to remember me for being a nice and funny person."
Nolan also enjoys spending time with his family. Nolan has a step brother, senior Cole Zemore, and a younger brother, Trent, whom Nolan said is "really funny, and outgoing."
When not at work or playing video games, Nolan enjoys spending time with his numerous friends.
Senior Trenton DiGenova enjoys spending time with Nolan.
"I like that when we hang out, he always keeps me in a good mood and laughing," DiGenova said.
Senior Chris Moyer also enjoys his time with Nolan.
"When I chill with Nolan, he always brings a lot of laughs," Moyer said.
Nolan thinks having a positive attitude is an important part of life.
Nolan said, "If you don't have a positive attitude then you wont get anywhere in life."
Leave a Comment
About the Contributor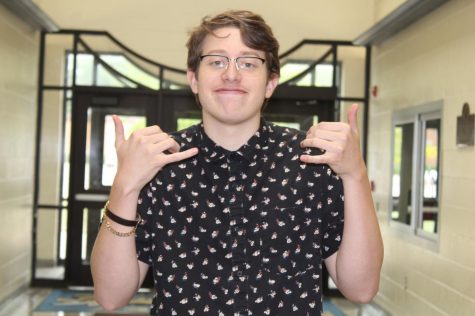 Gabe Jacobs, Reporter
Class: Senior

Hobbies: Music, spending time with family, and sleeping.

Future Plans: Go to Mott for electrical and computer-aided design.

Favorite...