Cunningham excels in school, loves sports
Hang on for a minute...we're trying to find some more stories you might like.
Throughout high school, junior Felicia Cunningham has been well known for her intelligence, participation, and effort.
Being a part of the National Honor Society, she has a strong reputation to uphold.
Cunningham must maintain a certain GPA while participating in sports and going above and beyond for her peers and community.
She wants to succeed in school to succeed in her future endeavors.
"Due to my parents' struggles, I wanted to do good in school so I could get scholarship opportunities and obtain a strong career," Cunningham said.
Cunningham explained that her family is no more than ordinary, and she has no problem with that.
"We struggle sometimes, but we get by, and I'm fine with that," Cunningham said.
Although she battles obstacles in life, Cunningham never loses hope.
Cunningham has many aspirations in life.
She wants to attend Saginaw Valley State University and help those in need.
Her dream is to earn a nursing degree and to work at Hurley Medical Center in Flint.
Cunningham has always been a dedicated athlete. She has participated in volleyball since sophomore year, while swimming and soccer have been her sports since freshman year.
Cunningham has also participated in powder puff every year of high school.
"The experience was fun," Cunningham said. "It allowed me to grow and create new bonds with some of my peers."
Mr. Andy Nester, political science teacher, said Cunningham is a bright student with an even brighter future.
"I first met Felicia in driver's education during her freshman year," Nester said. "She was mature, calm, and coordinated. I think Felicia is going to be successful in whatever she attempts. If there were more students like her, Kearsley would be a better place."
Cunningham believes her mother sparked ambition in her daughter's heart.
"My mom is my role model because she works at Hurley as a nurse," Cunningham said. "Her work consists of long nights with changing shifts while dealing with gun shots and crazy people.
"Even through all of that, she still comes home to clean the house and supports me at my games. She is my biggest inspiration."
About the Contributors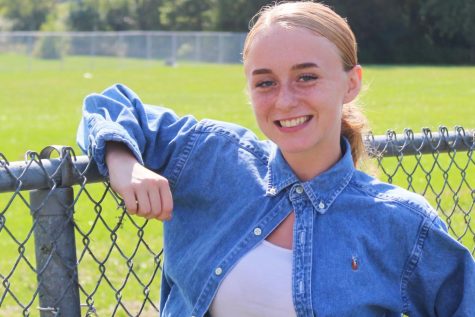 Serenity Booth, Reporter
Birthday: February 17, 2002

Hobbies/Interests: Reading, fashion, writing, art, music, and cosmetology.

Favorite Quote: "Don't cry because it's...