Patrick hopes his talent, creativity leads him into the music business
Hang on for a minute...we're trying to find some more stories you might like.
After graduation, KHS will say goodbye to one of its greatest assets, senior Niccos Patrick.
Patrick has thick, black hair and black, thin-framed glasses.
He is the youngest of his siblings.
"I'm the youngest of eight kids," Patrick said. "I'm really close with some rather than others, like they have their own families and lives."
Last year Patrick won Mr. Kearsley, the annual talent show at KHS.
"It was fun," Patrick said. "I was hesitant, but when I won I was surprised. I didn't expect to win."
Patrick has a great personality and a fantastic sense of humor. He is either joking around with his friends or bursting into song out of nowhere.
He's very passionate about music and acting.
"For the longest time, I didn't have any hobbies or anything," Patrick said. "But sophomore year I was asked to audition for the play and ever since my main two interests have been singing and acting."
Sophomore Alexis Williams believes he's a great addition to the choir class.
"His singing voice literally sounds like angels. He did struggle with one song but only because he had to learn it for a choir concert," Williams said. "He carries his section when it comes to a more difficult song. He takes charge of his section."
Through the early years of his life, Patrick moved from school to school until sixth grade.
"Yeah, I did bounce around a lot," Patrick said. "I came to Kearsley in sixth grade."
Patrick went from Grand Blanc Academy, to Tucker Elementary, to Doyle Ryder, and then to Larkspur Elementary before coming to Kearsley.
"My mom just couldn't find a good enough fit for me," Patrick said. "Kearsley is definitely my favorite. It's where I feel most connected with my friends, and it's even where I made my friend group."
Ms. Rene Kotzian, choir teacher, said Patrick's personality is uplifting.
"He's an awesome kid," Kotzian said. "He's stepped up to be a real leader. He has a very positive attitude. You can't help but be friends with him."
Patrick is passionate about choir.
"I love choir," Patrick said. "For a long time I didn't think that much of it. After awhile of being in it, I thought, 'This is where I need to be.'"
Having several solos in the choir, Patrick found it nerve-racking at first.
However, he began to grow more and more comfortable with it.
"A lot of times they (the solos) were unexpected," Patrick said. "I auditioned for the first one and was very nervous to see if I got it. The other times they were just given to me, I didn't really understand."
Theater and acting is a large part of Patrick's life.
Patrick has been involved in school productions such as "Almost, Maine," "Murder Will Make Him Mine," and "It's Murder In The Wings."
"I love acting, but I was always afraid to," Patrick said. "Once I did it, I knew it was something that was just a part of me."
Patrick dreams of going to Wayne State University to study musical arts.
"I plan on attending Wayne State University to study music business so I can still have a connection to what I love as well as a steady income,"Patrick said.
Junior Vincent Zamora is fond of his friendship with Patrick.
"I met him through (riding) the bus during freshman year," Zamora said. "He is strongly opinionated and very outspoken to everyone. He's very friendly and talkative."

About the Contributor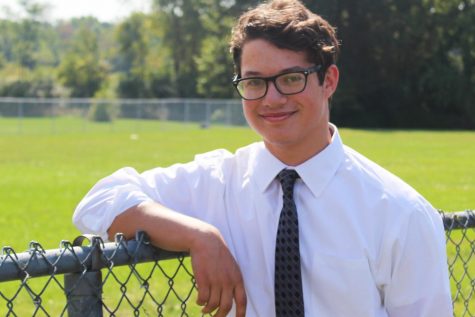 Matt Ostrander, Reporter

Birthday: March 14, 2002
Hobbies/Interests: Drawing, and playing guitar, ukulele, and piano.
Favorite Quote: "No I can't marry you, I have...