Art programs help students express themselves
There is more to art than paper and pencils. Art also includes programs like band, choir, and theater.
These art forms allow for students to be creative and experimental when creating a live performance.
KHS has many performing art programs that students can explore.
One of these programs is theater, in which students can perform and act out skits they come up with.
Mr. Jack Linn teaches theater classes to help students use their brains in a creative outlet.
"The theater class is a way for students to use creativity and imagination, which lacks in students nowadays," Linn said. "Students gain confidence and have the freedom to be themselves."
Many students enjoy this program, not only for the great teacher behind it but for the great bonds they make with other students.
Sophomore Katelyn Marquand is one of Linn's students who enjoys taking theater.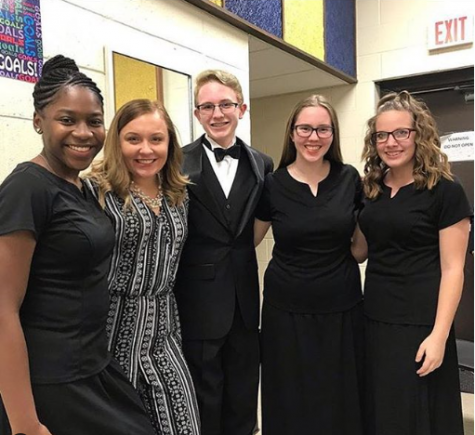 Marquand said theater helped her laugh at her mistakes with the people around her.
"You learn to trust everyone in that class and start to form bonds with certain people," Marquand said. "You can come out of your shell without having to worry about being judged because, believe it or not, they'll be doing something equally as stupid sooner or later."
KHS students can also take choir.
Choir gives students an opportunity to let their voices be heard and to let other people enjoy their lovely music.
Mrs. Renee Kotzian, choir teacher, is dedicated to teaching students the ins and outs of music.
Kotzian said that choir is an outlet to show off students' talents.
"Choir is an excellent way for a person to express themselves," Kotzian said. "Not only do they sing in a group setting, but there are also opportunities to sing solos, which allows even more freedom of expression."
Sophomore Dillian Walker said that choir helps him get out of his shell.
"Mrs. Kotzian helps me a lot to express myself. I love her to death," Walker said. "Students should definitely do choir because it does let students express themselves in a new way."
Symphonic band also gives many students expression through music.
Ms. Alison Phelps, band director, shows dedication by making the band perform at a greater level.
"Being the band director is not something you can do halfway," Phelps said.
Phelps said that band is more than what meets the eye.
"In band, it's a lot more of what's on the paper and trying to perfect what's on the paper more than just playing the music," Phelps said. "It does involve working with a team and communicating, so we can work on coming together to make one beautiful product."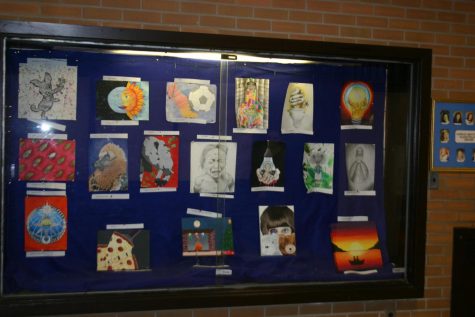 Band allows students to show how good they can become with a few instruments.
Junior Skyelar Herriman said band is more unique than any other class.
"Some of my best friends are in band," Herriman said. "It's different than your regular history class. When you go out for marching (band) season it's a different experience than staying in a classroom all day."
Normal art classes are also critical for students to show their creative endeavors.
Ms. Cindy Parker, art teacher, lets students relax as they do their art.
"Fine arts has a lot to do with expressing yourself non-verbally. It's therapy," Parker said
Students love that they can display their feelings in art that are completely their own.
Senior Madison Kreinbrink said that art has helped her show her emotions in the form of images.
"It does help me — along with many other students — to express how we feel and helps us in different ways (to) tell others how we feel too," Kreinbrink said.
About the Contributor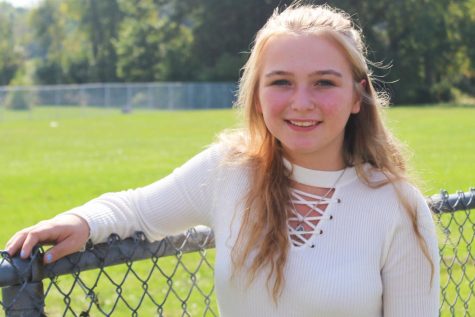 Riley Paris, Reporter

Birthday: Dec. 18, 2003
Hobbies/Interests: I enjoy reading, listening to music, and writing.
Favorite Quote: "You've gotta dance like there's...