Student Council walks for mental illness awareness
Hang on for a minute...we're trying to find some more stories you might like.
On Sept. 22, the Student Council attended "Illuminate," hosted by the National Alliance for Mental Illness.
The walk raised awareness for mental illness, but it was not a fundraiser.
The event was held in downtown Flint, offering many activities for the students to participate in.
Students were able to participate by getting colorful necklaces, writing positive messages on rocks, painting inspirational quotes on pieces of wood, and doing a 22-push-up challenge.
Junior Delanie Schreiber liked how NAMI involved many people.
"I really loved the coded necklaces," Schreiber said. "It was kind of a way to feel involved in the event along with everyone else."
Council members did the 22-push-up challenge in honor of the number of veterans who commit suicide daily.
Each person who took on the challenge received a ribbon for their participation.
Students also wrote positive things on stones so they would be given to someone else to make their day better.
Senior Chloe Clarambeau, Student Council president, believes the rocks were a positive way to change someone's day for the better.
"I liked writing nice notes on the rocks to be placed around the city," Clarambeau said. "It reminded me that little things matter too, and a gesture doesn't have to be grand to make a difference in someone else's day."
Former Detroit Lion Erik Hipple was also featured at the event and spoke about mental illness.
Overall, the event was a fun experience and involved many in the community.

About the Contributor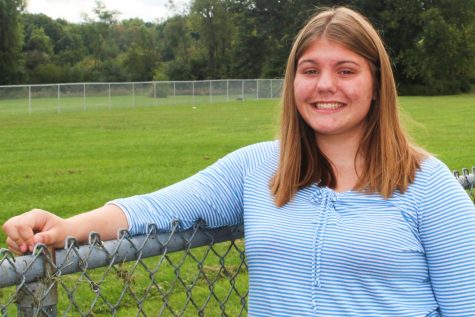 Haley Peters, Reporter

Birthday: Dec. 28, 2002
Hobbies/Interests: Student Council, Pokémon GO.
Favorite Quote: "Let no man pull you low enough to hate him." -...