Women's History Month: Angelina Jolie strives as an actress, leader
Hang on for a minute...we're trying to find some more stories you might like.
This story is part three of a five-part series.
Angelina Jolie is a beauty and an inspiration both on the screen and off with her dazzling looks and ongoing endeavors.
Jolie began studying at the Lee Strasberg Theatre Institute at age 11 where she participated in several stage productions. She then started studying film at New York University and later became part of the Met Theatre Group in Los Angeles.
Jolie's sharp looks kick-started her career in modeling, as well as making appearances in music videos such as "Did My Time" by Korn, "Anybody Seen My Baby" by The Rolling Stones, "It's About Time" by The Lemonheads, and "Rock and Roll Dreams Come Through" by Meat Loaf.
Jolie's film career began with several small films in the '90s, such as "Hackers" in 1995 and "Foxfire" in 1996. Jolie got her first major break in 1999 when she played the lead in "The Bone Collector."
Jolie is most recently recognized by her leading role in Disney's "Maleficent," a tale about the evil queen from the story of Snow White.
Sophomore Jillian Locke is inspired by Jolie's determined mindset and the goals she has achieved.
"Angelina Jolie is a very respected actress because she's good at what she does, but she didn't get that way over night," Locke said. " The way she became so well known is hard work, which I completely respect and find completely honorable.
"Also, she does a lot of charity work which is amazing. It shows that she's not just some stuck-up celebrity and that she actually cares about her community. These things, in turn, inspire me to continue to work hard for the things that I care about."
In Cambodia, Jolie adopted her eldest son Maddox, and she lived there part-time in order to leave Maddox's heritage untouched.
Jolie created the Maddox Jolie-Pitt Foundation in Cambodia with the mission of establishing health and educational opportunities,  protecting the environment and national forest, and ending poverty.
Jolie also adopted two more children internationally — Zahara Marley, from Ethiopia, and Pax from Vietnam.
She also has three biological children with previous husband Brad Pitt. Their names are Shiloh Nouvel, and twins Knox Léon, and Vivienne Marcheline.
In 2001, Jolie became a goodwill ambassador for the United Nations High Commissioner for Refugees, an agency that protects rights and builds a better future for displaced communities and stateless people.
Jolie's inspiration didn't stop here.
In 2013, Jolie discovered that she carried a genetic mutation in the BRCA1 gene, which significantly increased her risk for breast cancer, as well as ovarian cancer.
Jolie had lost her mother, aunt, and grandmother to cancer, and to prevent the same fate she decided to undergo a double mastectomy. Jolie later had her ovaries and fallopian tubes removed to also reduce the risk of ovarian cancer.
Jolie faced ridicule from people regarding her surgeries and breast reconstruction. She also faced hardships during recovery, including being pushed into an early menopause due to the second surgery.
But after putting on a brave face, Jolie has no sign of cancer and no sign of leaving the spotlight.
"
It's inspiring to see how far she's come from where she was once at."
— Maddy Kreinbrink, junior
From rising in the acting world, to battling in the medical world, Jolie continues to be an inspiring woman for others to look up to across the globe.
Junior Maddy Kreinbrink said Jolie's determination is motivational.
"She's very strong and independent," Kreinbrink said. "It's inspiring to see how far she's come from where she was once at."
The featured image in this story is from flickr.
About the Contributors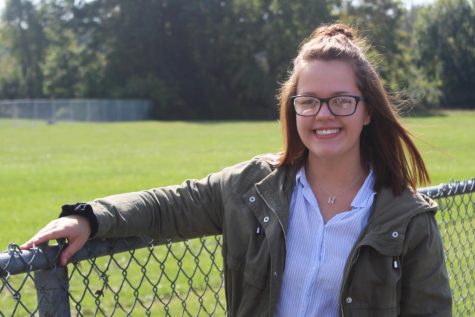 Jenna Robinson, Editor in Chief

Birthday: Oct. 26, 2000
Hobbies/Interest: Playing electric, acoustic, and bass guitar, as well as ukulele. I also enjoy drawing, reading, writing,...