March is Reading Month: Students indulge in romance
Hang on for a minute...we're trying to find some more stories you might like.
Romance novels primarily focus on two people falling in love and overcoming obstacles to create a happy and healthy relationship.
While these books offer subplots like family problems or health issues, the main focus of each story is the couple and how they build their relationship over time.
These novels have turned into fan favorites, offering readers insight into the problems of fictional couples, and allowing them to relate to the issues written in the novels in personal and emotional ways.
"My Life with the Walter Boys"
This book centers around Jackie Howard, a high school student with perfectionist habits and a one-track mind. Howard is striving for a life with big accomplishments and success, having been put on the path of success since a young age.
After her family dies in a car accident, Howard's life takes a major 180 when she is forced to move halfway across the country to live with her mother's best friend, Katherine Walter. The Walter family consists of 12 sons, a huge difference from Howard's previous life with only one sister.
While Howard adjusts to her new life in a new home, she develops a bond with two of Katherine's sons, Cole and Alex. This bond eventually turns into a love triangle that creates a hostile environment and a complicated home situation.
While Howard tries to adjust to her new environment with a close-knit family, sibling rivalry, and unfamiliar activities, she has to figure out how she feels about the newest guys in her life.
Junior Mickeely Dias finds the book to be an addicting read.
"It's one of those novels you can't put down," Dias said.
"Along for the Ride"
 When Auden West spends the summer with her father and his new family, she meets Eli Stock, a boy who understands her situation and habits. West and Stock keep bumping into each other throughout the beginning of the novel, and eventually realize they have more in common than they originally thought.
The novel, written by Sarah Dessen, explores the struggles many young people face after graduating high school and not knowing who they are or what they want to be.
Besides the typical boy problems that accompany every romance novel, West also has to figure out how to feel about her new stepfamily and her biological parents' attitudes toward her.
Halle Parish, junior, enjoys how easy it is to relate to the book.
"It was super good, and it touched on relatable topics with being a teen girl and going through drama and relationships with people," Parish said. "It's also a cute story on how she (Auden) meets this boy (Eli) because he's an insomniac (like Auden)."
Other romance books:
"A Walk to Remember" by Nicholas Sparks
"Everything, Everything" by Nicola Yoon
"Eleanor & Park" by Rainbow Rowell
"Every Day" by David Levithan
"The Statistical Probability of Love at First Sight" by Jennifer E. Smith
"My Life Next Door" by Huntley Fitzpatrick

About the Contributor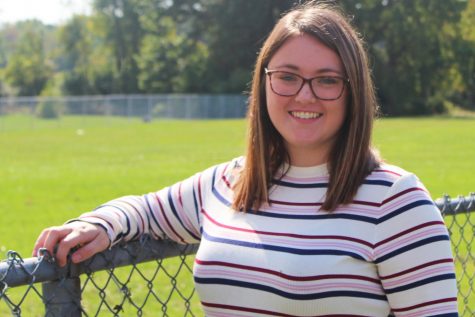 Autumn Prescott, Special Projects Editor

Birthday: Aug. 2, 2001
Hobbies/Interests: NHS, drama club, Freshman Mentors.
Favorite Quote: "Find out who you are and do it on purpose."...