March is Reading Month: Fantasy books transport readers to different worlds
Hang on for a minute...we're trying to find some more stories you might like.
Fantasy
Picking up a book and spending hours visualizing the words on the paper coming to life and surrounding you with magic, unworldly events, and unimaginable adventures are all part of the fun when it comes to reading fantasy books.
March is reading month and individuals across the country are encouraged to pick up a book and make some time to enjoy the stories created for them.
Two popular fantasy series are the "Harry Potter" series by J.K. Rowling and "A Song of Ice and Fire (A Game of Thrones)" by R. R. Martin.
"Harry Potter" series by J.K Rowling 
The popular "Harry Potter" series tells the story of a young wizard, Harry Potter, going to Hogwarts School of Witchcraft and Wizardry and describes the battle between good and evil in a world filled with magic. There are seven books representing Potter's seven years at the school.
The main conflict in the series is the ongoing battle between the dark lord, Lord Voldemort, and Potter, a conflict that began when Potter was still in his crib. This conflict began when Harry became an orphan and received the well-known lightning bolt scar on his forehead.
In Hogwarts there are four houses named after their founders: Godric Gryffindor, Helga Hufflepuff, Rowena Ravenclaw, and Salazar Slytherin. Students are sorted into one of these houses their first year at Hogwarts. Potter and his two best friends, Ron Weasley and Hermione Granger were all sorted into Gryffindor.
Each book shares a new adventure that the trio encounters, problem solves, and duels their way through. From battling Voldemort to competing against other houses, there is never a dull moment in the series.
The "Harry Potter" series brings a wave of emotions to readers with each chapter. A roller coaster of joy, sorrow, laughter, and tears follows each written word.
Junior Maddy Burroughs enjoys the details put into the "Harry Potter" series.
"I think that everyone should read this series," Burroughs said. "J.K. Rowling is a fantastic writer, and she includes so many details in her writing.
"The plot and character development is really cool to read. It's such a good book series and I highly recommend it."
"A Song of Ice and Fire" series by R.R Martin
"A Game of Thrones" — the first novel in the series — tells the story of a civil war being fought over who should take the crown all while battling a growing supernatural threat in the north.
"A Song of Ice and Fire" is also a series of seven books. This series is a harder read than "Harry Potter" because it has many more characters, longer books, and more mature content.
With a vast array of unique characters and a detailed plot and story line, "A Game of Thrones" is sure to be a good read for March Reading Month.
Junior Tyler Gronauer read the first book in the series and said the story is complex and intriguing.
"The story is really involved," Tyler said. "It paints a picture of the region and the history of the families. I would say that, at times, the names can get confusing since every character has multiple names. I would recommend this series to those who like involving themselves in a whole different world."
The fantasy genre is popular among readers as it offers the ability to have an escape from real life. To psychologically be transported to a magical world with elements such as magic, monsters, wizards, and vast castles, the words that turn into worlds in the minds of readers are nothing short of extraordinary.
"
I should have given fantasy a chance a long time ago. It is now one of my favorite genres."
— Marti VanOverbeke
Mrs. Marti VanOverbeke, English teacher, discovered her love for fantasy books after a student pushed her into reading a book in that genre.
"This genre never interested me before I became a teacher," VanOverbeke said. "In fact, the only reason I started reading a book from this genre was because of a former student, whom insisted I read the book she had just finished. Once I started reading, I was hooked."
VanOverbeke loves the quick pace and unique characters found in fantasy books.
"I loved the interesting elements of fantasy, and I have found that these stories are usually quite fast-paced with incredibly genuine and original characters," VanOverbeke said. "In short, I should have given fantasy a chance a long time ago. It is now one of my favorite genres."
Other fantasy books:
"The Lord of the Rings" by J. R. R. Tolkien
"The Magic Strings of Frankie Presto" by Mitch Albom
"The Chronicles of Narnia" by C.S. Lewis
"A Wrinkle in Time" by Madeleine L'Engle
"Percy Jackson and the Olympians" by Rick Riordan
About the Contributor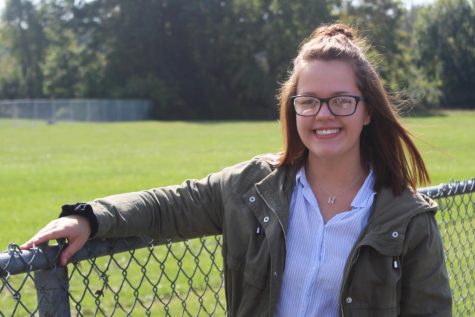 Jenna Robinson, Editor in Chief

Birthday: Oct. 26, 2000
Hobbies/Interest: Playing electric, acoustic, and bass guitar, as well as ukulele. I also enjoy drawing, reading, writing,...