With life goals pinned down, Megan Timm dives into her future
Hang on for a minute...we're trying to find some more stories you might like.
Freshman Megan Timm is the girl who is always smiling, laughing, and having a good time. She always finds a way to keep herself happy and others around her happy as well.
Timm has a bright smile, short brown hair, and hazel eyes.
Bowling is a passion of Timm's and has been since she was 3 years old.
Timm strives to make each shot perfect when she bowls. Every shot she makes — down to the way her body is positioned — matters when going for that perfect delivery.
Here's an example — Looking down the lane while lining up her feet on the correct board, Timm prepares to throw her ball. Taking a deep breath, she finds her mark out on the lane, begins to walk forward and releases the ball. Finishing at the line, she watches her ball knock down all the pins.
"That actually was a good ball for once," Timm said jokingly to her teammates.
During our interview, there were multiple times Timm would stop to joke with her friends or engage in the conversation they were having and then come back to our interview like she never left.
Timm comes from a family of five. She has one older sister, Samantha Timm, one older brother, Zach Timm, her mom, Mrs. Kim Timm, and her dad, Mr. Jeff Timm.
Timm has grown up in the same house and in the same neighborhood with her family her whole life.
Junior Samantha Timm said her sister has a kind personality and uses it to lift up others.
"She's a very sweet person, but she is pretty shy around people she doesn't know. She likes to make other people happy and usually puts them first. She cares a lot about her family and her friends," Samantha said.
Timm shares a strong bond with her family.
"My favorite person in my life is my mom because I can talk to her about anything," Timm said. "She is always there for me when I need something."
Timm has several hobbies that she likes to do outside of school.
Timm enjoys bowling, swimming, and participating in Girl Scouts.
She has been bowling competitively for four years. She also has been swimming for three years and has been part of Girl Scouts for nine years.
Timm said swimming is exhilarating to her.
"Right before the race when your nerves are at an all-time high and as soon as you jump into the pool, everything goes away," Timm said.
Timm said bowling is an outlet for her, as well, allowing her to let go of any rancor in a healthy manner.
"Bowling allows me to take my aggression out," Timm said. "It lets me throw my ball as hard as I want. I also like being around my team and meeting new people."
Timm told me why she enjoyed Girl Scouts so much.
"The experiences. We go on fun trips," she said. "One time we went repelling into a cave in the Upper Peninsula in Michigan and went white water rafting."
As a freshman, Timm has had some major accomplishments already this season in both sports she loves.
Timm has won a 200-freestyle relay in swimming, and in bowling, she made the All-Tournament team at her first junior varsity high school bowling tournament.
In addition, she took made an All-Tournament team at a varsity level bowling tournament.
Hanging around Timm in a bowling alley all day, you may see her sassiness start to come out.
If you hear her say "fight me," don't take it literally, she's only kidding. Timm likes to say this to joke around and see other people's reactions.
For a freshman, Timm has her mind made up on her plans for college and what she wants to do in the future.
Timm wants to attend Webber International University in Florida.
She is undecided on the field she wants to go into, but she knows she wants a career in science. She also wants to continue to bowl while in college.
Her final remark to bowling and swimming was, "These are both hobbies I love and enjoy to do."

About the Contributor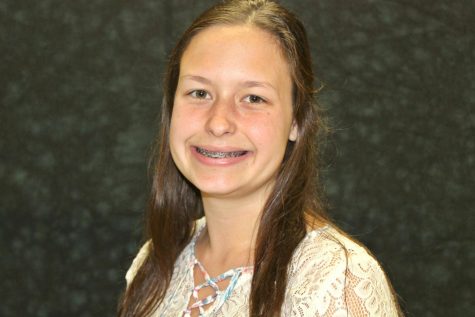 Morgan Brode, Reporter

Birthday: October 26, 1999
Extracurricular: Bowling
Hobbies: Coloring in stress-free coloring books.
Plans after high school: Attend college...