What happened at the Oscars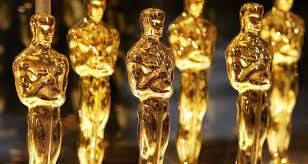 The Oscars are arguably one of the most anticipated nights of the year, especially for fans who want to see all the celebrities dazzled up and in their glamorized outfits, the celebrities themselves also anticipate, as they get to take home a shiny gold trophy that signifies their win.
The main trophies that can be awarded are: Best Picture, Best Director, Best Actor, Best Actress, and Best Screenplay.
Also known as the Big Five, another Oscar that a celebrity can receive is Best Supporting Actress.
Who actually took home awards at the 2023 Oscars?
Most notably, Michelle Yeoh took home an award for "Everything Everywhere All At Once," the movie itself had 11 nominations, however took home 7 awards, including best picture, best actress, best director, best editing, best supporting actor, best supporting actress and best original screenplay.
Yeoh is the first Asian woman to win best supporting actress at the Oscars, and was very proud of her accomplishment. Other big names that won were  Jamie Lee Curtis and Angela Bassett, these women have made countless contributions to the movie and film industry.
Malala Yousafzai was also there due for a documentary she produced, while there were many awkward moments that occurred on Sunday Night most people can agree that it was most definitely memorable.
The list of winners that took home an Oscar for entertainment movies are:
"Everything Everywhere All at Once," "The Whale," "Navalny," "Women Talking," "Wakanda Forever," "All Quiet on the Western Front," "Guillermo Del Toro's Pinocchio,"
Best Visual Effect: "Avatar: The Way of Water," "All Quiet on the Western Front," "Top Gun: Maverick," "The Elephant Whisperers," "The Boy, the Mole, the Fox and the Horse," "An Irish Goodbye,"
Kearsley student Emma Mccormick, A freshman sure thinks so, as Mccormick states;
"I really enjoyed the Oscars however the outfits that were worn were really aggravating because they weren't what I really expected but I mean the Oscars weren't the best this year but I just don't think they tried their best, Lady Gaga's outfit sucked in my opinion, her outfit was so bad she could have done better but I still love her, also Rihanna's outfit was pretty good but her performance was epic," said Mccormick.
Although some things weren't mentioned within this article, the Oscars this year were definitely memorable and will most likely go down in history as being some of the most memorable moments this year, besides all the awkward jokes of the devastating yet controversial slap that Will Smith gave to Chris Rock the night seemed to be filled fun laughter and joy.