Behind the scenes of Gatsby
Lights! Camera! Set Building!
Once every year, Kearsley High School theater performs a play that students can watch after school.
This year, the Drama Club performed The Great Gatsby by F. Scott Fitzgerald.
Curious about the preparations of what it takes to create a play, I asked certain students questions about being a part of the stage crew.
Freshman Ajax Prevett spoke about what stage crew is about and the roles they have to play.
"We basically try to create the atmosphere of each scene with the help of the people doing things like lights, curtains, sound effects and moving furniture, During the show, we have assigned jobs for everyone to do during changes, so it was easy to be quick and smooth while moving everything around. I usually grabbed some sort of furniture, whether it was a table or chairs, while everyone else around me helped with either furniture, props, or spinning the walls to match the scene," mentioned Prevett.
Prevett also mentioned a challenge that the stage crew has to put up with.
"Something that we can struggle with is trying to be quiet while rearranging heavy furniture or awkward things to lift during school in session," commented Prevett.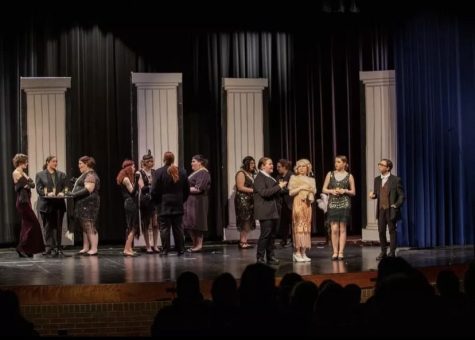 Time management plays a big role in preparing for a play, says Junior Sam Springsteen, who helped manage painting the set.
"Anything could happen in the school to delay to process of set building; including the principal needing the auditorium where we need to paint the set and or even the lack of people wanting to help which could delay it. We get it done, but it can get pretty stressful getting everything right in time for the play," explained Springsteen.
Even with the stress of preparations, these students still find enjoyment in this. Like freshman Emma Mccormick, who had so many things to say about her time in theater. 
"I really like being able to be a part of such a great production and being able to watch all of the actors grow and become better. I also enjoy knowing that I help the production come to life, even if i'm not seen on stage, since my acting skills are not good. Being able to become close friends with all these people makes me even more thrilled," answered Mccormick.
Mccormick also stated why she had chosen to be a part of the crew instead of being in the spotlight.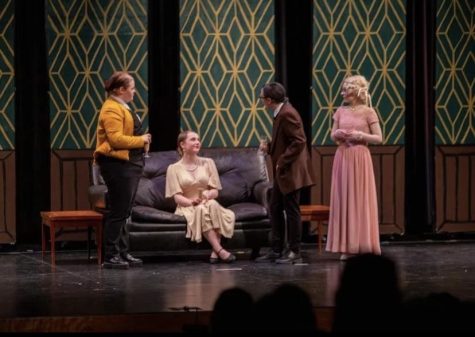 "To be honest, I joined production very late, so there was no opportunity to audition for a role in the play. Which placed me on stage crew, but I think even if I had the opportunity I still would have picked stage crew. I like being able to help the play move smoothly. I have never done theater/stage crew before, so it was nice to learn and get new experiences. I had a lot of fun and I will definitely be back next year, maybe with a role this time, who knows," expressed Mccormick. 
Learning more about the stage crew, I would have to say that they have to go through a lot to get everything right.
This year's production was a hit!
Everyone's acting was amazing and the stage crew is excited to be a part of next year's performance.