The inspiration of Thomas Brewer
Thomas Brewer grew up with an encouraging, loving family that has continued to support him no matter who he is.
He has been a part of numerous events involving the school and he shares with us what he favors most about helping the community of Kearsley High School.
"Definitely seeing the impact when you help someone in the community and see the smile on their face. Also, the recognition from administration and fellow students," expressed Brewer.
His contributions to our school makes it better for the students to be able to have access to the community closet, which Brewer felt was his most effective thing he's done in the student council.
"I definitely think about my contributions to running the community closet.  I've been in charge of it for 3 years and you can tell based on how many donations we've received for hygiene products, also how often it gets used and refilled.  It definitely makes me happy that I can help my community," mentioned Brewer.
Brewer's family has a big influence on how active he is when it comes to helping the school.
"My parents always help whenever it is needed from set building, floats, decorating the school and donating to the student council and band.  They are always there to help and are never afraid to ask what I need.  My grandparents are also involved from afar by donating to many of my groups," answered Brewer.
When asking who had been his biggest influence in his life he explained how it has been his mother all of the way.
"She is such an amazing woman and helps anyone no matter what. She also showed me kindness for every type of person. She helps families with Home Depot and with old newsboys of flint," asserted Brewer.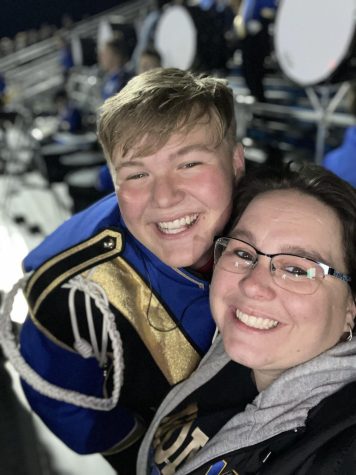 He spoke about moments in his life that inspired him to want to do good.
"My mother used to take me to soup kitchens growing up and showed me community service and how we are fortunate to have what we do have and how to help others," responded Brewer.
Recently, he was talking to his mother about how she felt about his involvement.
"We are very proud of how much you do " exclaimed his mother, Krystel Brown.
He spoke about how proud he is of himself for being in the position he is in.
"While growing up she has always pushed me to be and do my best.  I also don't see people like me in power, I want people who are like me to see that plus sized and LGBTQ+ people can help change our world and communities," stated Brewer.
Brewer shares his top thoughts and goals he wants to fulfill for his future.
"I want to graduate from a college with a degree in agriculture or agriculture education. I want to pay it forward and help families in my community everyday whether that be teaching about agriculture with growing food or finding things to help.  Maybe one day get into politics in our state or even the country you never know," shared Brewer.
From interviewing Thomas Brewer, I can tell he's going to take on many things to be what he's meant to become in this life.