Michigan health department 'pauses' Michigan, Kearsley plans for virtual learning
Sunday, Nov. 15, the Michigan Department of Health and Human Services announced that parts of the state will be shutdown until Wednesday, Dec. 9 to stop the exponential growth of COVID-19 cases.
Theaters, casinos, arcades, indoor water parks, bowling alleys, and stadiums will close their doors once again and in-person learning is suspended for high schools and colleges.
KHS and Armstrong Middle School will close their doors Wednesday, Nov. 18 followed by Fiedler, Dowdall, and Weston Elementary schools Monday, Nov. 23.
Along with the transition to virtual learning, regular school days will be longer with a daily mandatory Zooms or Google Meets for each class.
To further the safety of our students and staff, the Kearsley district will continue virtual learning until the end of the first semester, Friday, Jan. 29.
Senior Daniel Barrington doesn't think the longer school days fit student and teacher's work style this year.
"The old schedule worked better an gave students more time to do their work at their own pace," Barrington said.
Junior Victor Desjardins and freshmen Samantha Atkinson think that the chromebooks are not the best way to learn.
"Students and teachers shouldn't be staring at a computer screen for seven or more hours a day," Desjardins said.
"It's very difficult to work when the chromebooks always crash and the WiFi goes out," Atkinson said.
Organized sports, with the exception of professional teams and a select few of NCAA sports, and group fitness classes are also suspended.
After a record season for the varsity football team, senior Michael Plunkey wants to finish the football season and continue into the MHSAA Division 3 Regional tournament against Chelsea.
"It's frustrating getting to the end point of the season and then it being taken away," Plunkey said. "As a team we've been rolling week by week and we don't want to stop that momentum because we have more goals we want to complete this season. We want to keep making history!"
Senior Allison Eible, an all-state bowler, wishes for a normal year where she can have her final season of the sport she is passionate about.
"I am so disappointed that I will most likely not get my senior bowling season and that I won't be able to sign to Valparaiso University like others before me have been able to," Eible said.
Leave a Comment
About the Writer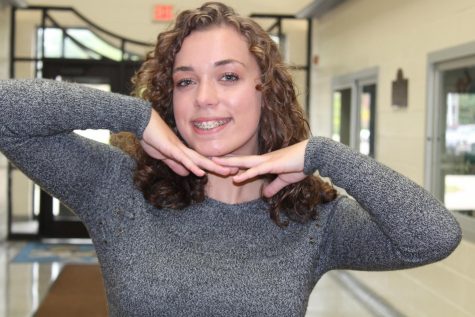 Mackenzie Atkinson, Editor in Chief
Class: Senior

Hobbies: Taking pictures of landscapes and sports

Future Plans: I plan to move to the Carolinas and go to college for journalism.

Favorite...