Police brutality sparks outrage among students
Police brutality against people of color has been an issue that has plagued the U.S. for centuries. The public's awareness of such injustices has spiked recently due to viral videos shared over social media.
Monday, May 25, George Floyd was detained for suspected forgery when a Minneapolis police officer kneeled on his neck to apprehend Floyd for eight minutes and 46 seconds rendering him unconscious and inevitably killing Floyd. A video of Floyd pleading with the officers and claiming he couldn't breathe went viral the May 26.
The four police officers that were involved, Derek Chauvin, Thomas Lane, Tou Thao, and J. Alexander Kueng, were fired after the video was released.
Junior Madison Groulx thinks Floyd's death was fueled by white privilege.
"I feel like this situation shows how white privilege is very prevalent in today's society and that incidents like these are still so common and it needs to change," Groulx said. "I think the protests are absolutely needed and that punishment needs to take place for the cops that are responsible. We shouldn't have races living in fear."
May 29, Chauvin, the officer that knelt on Floyd's neck, was arrested and originally charged with third-degree murder and second-degree manslaughter which later changed to second-degree murder June 3. The other officers involved were also arrested June 3 for aiding and abetting in second-degree murder.
Police brutality has been in the news in the past few years and La'Ron Ruffin, senior, has had enough.
"I'm tired of hearing another brother or sister being killed," Ruffin said. "It touches my soul to see another Rest In Peace post especially when we are getting killed by the people that are supposed to protect us. There's no reason to ever cut off a human being's oxygen because he allegedly forged a check."
Protests and riots have swept across the nation calling for justice and bringing attention to the Black Lives Matter movement.
Ruffin participated in a protest hosted in downtown Flint June 1 and believes they are making a drastic and rapid change in society.
"The protests are definitely a game-changer," Ruffin said. "It's opening up other cultures to listen to what us African-Americans have to deal with on a day to day basis."
Ruffin believes there are other ways to advocate for justice other than rioting.
"We are taking the wrong approach with the riots," Ruffin said. "Instead of burning buildings, we should hit them where it hurts the most. Stop supporting their business. They're only getting away with the stuff they do because we are so distant from each other but when we come together as one body, one voice, one vision, one dream, who can stop us from living?"
Many wonder how to we stop police brutality. Senior Stacia Tipton believes that the root of police brutality and racism is an something that is taught.
"I believe racism is something that is taught, so parents and public figures need to do a better job at making it clear that everyone needs to love everyone regardless of their race, gender, sexuality, etc.," Tipton said. "The world is already a scary place, no one should have to fear losing their life over something like that, especially to police, the people who are supposed to protect us."
With the recent murder of Amaud Arbery, who was shot and killed by Gregory McMichael and Travis McMichael while on a casual run in late February, the tensions were high prior to Floyd's death.
"People are angrier than ever now," Tipton said. "They've been trying to peacefully get their point across, but no one ever listened. The riots are just people fighting fire with fire."
The protest hosted by Pastor Jeffery Hawkins on Miller Road ended peacefully with Genesee County Sheriff Christopher Swanson and other law enforcement officers joining the march.
"I think it was awesome (for Swanson to join the protest)," Tipton said. "To say the least, I am so proud of my hometown. Flint almost always gets looked at sideways for multiple reasons and I'm just happy that Flint could finally set the bar high for other cities."
The city of Flint remains riotless as of June 4.
Leave a Comment
About the Writer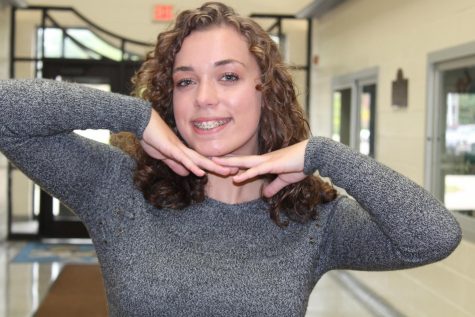 Mackenzie Atkinson, Editor in Chief
Class: Senior

Hobbies: Taking pictures of landscapes and sports

Future Plans: I plan to move to the Carolinas and go to college for journalism.

Favorite...