Students enjoy scary movies for Halloween
Halloween is the pinnacle of spooky season and scary movies help bring fear during this time of year.
Here are five of Kearsley's all-time favorite scary movies.
"Insidious" (2011)
This film features a strange string of events after a family moves into their new house.
After being drawn to the attic, one of the sons falls into an unexplained coma.
Soon after bringing their son home from the hospital, the parents start to notice paranormal activity.
Senior Alyssa Powell likes the "Insidious" movies.
"It's just a really good series," Powell said. "I like the movie."
"The Conjuring" (2013)
The movie "The Conjuring" starts off with a classic scary movie trope: moving into a new house.
Paranormal activity occurs right away.
All of the clocks in the house stop at exactly 3:07 a.m., birds fly into their windows and their dog is found dead in the backyard.
"The Conjuring" is one of senior Marquez Williams' favorites.
"It's one of the only scary movies I actually found scary," Williams said. "The scariest part was when they tried to get the demon out of the little girl. It was also kind of funny because the demon was throwing the little girl around."
"IT" (2017)
People who are afraid of clowns should not watch the movie "IT" unless they want to be thoroughly terrified.
The movie begins with Georgie, a 6-year-old boy, floating his paper sailboat only to have it fall inside a storm drain.
As he attempts to retrieve it, he sees a clown in the drain who introduces himself as Pennywise.
Pennywise convinces Georgie to come close enough for him to drag Georgie into the drain.
Junior Jo Coleman said "IT" is his favorite scary movie. He appreciated the friendship of the characters.
"It is funny and not too scary," Coleman said. "I liked the part where they were at the cliff because it made me want to have friends."
"Halloween" (1978)
"Halloween" starts off on Halloween night of 1963.
A 6-year-old named Michael Myers inexplicably stabs his older sister to death and is retained in a mental hospital for 15 years.
Michael escapes and goes on a killing spree.
The original "Halloween" movie is senior Markayla Shannon's favorite scary movie.
"I like how Michael Myers doesn't talk, he just kills people," Shannon said. "My favorite part was when he killed his sister. He was really young when he started killing so it's different from most other scary movies."
"The Nun" (2018)
"The Nun" takes place in Romania.
The plot starts off with two nuns being attacked by an unseen force.
Only one of the two are able to escape.
The body of other nun is later found, hanged.
This movie is a personal favorite for sophomore Lydia Boggs.
"My friends and I drew crosses on our arms and scared each other," Boggs said. "My favorite part was when he was ringing the bell because he was buried alive. That was really creepy."
About the Contributors
Stacia Tipton, News Editor
Class: Senior

Hobbies: Shopping and sleeping

Future Plans: I plan to go to college to study English or education.

Favorite Book: "The Hunger...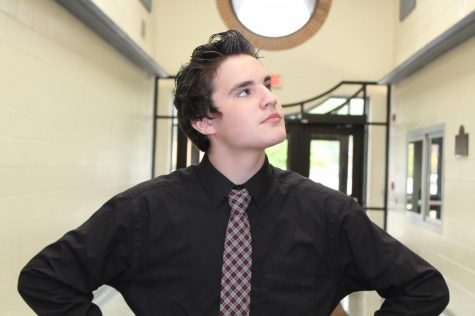 Jonathen Hart, Managing Editor
Class: Junior

Hobbies: Studying law and politics

Future Plans: I plan to become President of the United States of America.

Favorite Book: "Barack...