Workplace tips help students become safer
Hang on for a minute...we're trying to find some more stories you might like.
Passes Edge Safety Training came to KHS on March 12 to teach students safety tips that could save a life. These safety tips are important to be aware of every single day.
Michigan requires all students in Career and Technical Education classes to go to this training. It's part of the CTE funding.
Mr. Alec Lesko, retired firefighter and paramedic, trained the students. His goal was to promote workplace safety for young workers.
"I believe the most important message to young workers is to speak up, not be afraid to ask questions when you feel uncomfortable or uneasy about tasks you may have to perform at work," Lesko said. "Communication in the workplace is very important when it comes to safety. If I can make a difference in just one life, it's all very worthwhile."
Young workers being educated on the job is important to Lesko because little mistakes can turn into big disasters.
Through the assembly, students were taught how to react in dangerous situations.
Lesko brought up three key elements to help avoid injuries.
"
If I can make a difference in just one life, it's all very worthwhile."
— Alec Lesko
The first goal is to keep a good attitude toward workplace safety. It's important to look for the good in everything and know rules are made only to keep others safe.
The second goal is to be alert at all times because you never know when an accident is going to happen.
Lastly, it is important to know the proper use of your equipment. Using the equipment incorrectly can  have a negative result.
The situations varied all the way from a folded rug to a fire.
Throughout the assembly, many topics were discussed and addressed. Lesko taught students about safety on the job, safety with chemicals, place cards, protective gear, and symptoms of gas leaks, along with what to do in those situations.
Mr. Nick Vanduser, business teacher, enjoyed this assembly. It was his first time hearing from Lesko.
"I think it was pretty informational. I wish we had more time to get more in depth with it," Vanduser said. "My hope was that students would see the importance in following the rules in a workplace."
The assembly was an hour with lots of information to teach.
"
Everybody thinks nothing can happen to me, but it can."
— Mr. Shane Atkinson, drafting teacher
Mr. Shane Atkinson, drafting teacher, liked that the assembly was short because students have such short attention spans. Atkinson enjoys Lesko coming to KHS every year.
"I think he (Lesko) does a great job, and I like how he shortens it up because students have short attention spans," Atkinson said. "I want the kids to see workplace safety is real. Those things happen daily. Everybody thinks nothing can happen to me, but it can."
Atkinson and Lesko both think accidents can be avoided people weren't scared to ask questions.
Atkinson liked how all the scenarios can apply to other events even outside of the workplace.
"All the little things, at work, at school, at home. Even if you're just painting a room, there's things to be cautious about. Habits on safety can be lifelong," Atkinson said.
Senior Logan Loyer liked the assembly and learned from it.
"I find it helpful for the people that actually pay attention since it shows the simple dangers of the workplace and how to avoid them," Loyer said. "They could make it better by allowing more time for the assembly since it felt rushed."
About the Contributors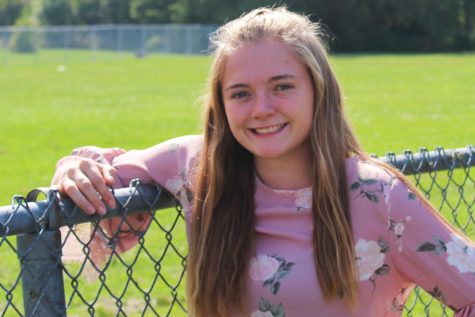 Makenzie Boillat, Reporter
Birthday: July 23, 2001

Hobbies/Interests: Cheer, going on walks, and watching Netflix.

Favorite Quote: "Nothing can dim the light that shines from within."...