Even though males dominate STEM programs, females still needed
Hang on for a minute...we're trying to find some more stories you might like.
The United States has encouraged students to join STEM programs, but fewer students have interest in these future jobs.
According to the U.S. Department of Education,only 16 percent of high school students are proficient in math and interested in STEM careers, which are careers in science, technology, engineering, and math.
But even fewer women are involved in these careers.
Over the past years, some women haven't been confident enough to start a career path in STEM.
Some women think they can't make it in the field because they are not male.
Many women are intimidated by how male-dominated the STEM path is.
"
My father got me into engineering when I was young because he was always fixing things around the house, which caused me to grow up knowing how to fix things."
— Emma Bishoff, senior
But senior Emma Bishoff plans to pursue engineering.
Bishoff said that her father encouraged her to become an engineer.
"My father got me into engineering when I was young because he was always fixing things around the house, which caused me to grow up knowing how to fix things," Bishoff said.
One reason why there is a lack of interest in STEM fields is that girls often lack the proper introduction into them.
But programs like the Society of Women Engineers, Girls Who Code, National Girls Collaborative Project, and STEM Women plan to change female students' minds.
The S.W.E. and STEM Women want to show the importance for women and girls to have a career path in STEM.
Mr. Randy Freeman, associate director of educational programming for S.W.E., said in a blog he wrote that if young women have been introduced to the careers at a young age, they will have more will to go after that career.
"If girls gain confidence in STEM at a young age, they will have the confidence to pursue careers in STEM so we can have more gender equality in these industries," Freeman said.
Ms. Reshma Saujani, founder of Girls Who Code, said in her 2017 annual report, that she wants to show how girls are changing because of programs that empower women to start a career in STEM.
"They are solving problems in their communities, empowering their friends, and defining the future of our world," Saujani said.
Encouraging women to start careers in these fields could have a big impact.
Ms. Noramay Cadena, co-founder and managing director of Make in LA, said in a Q&A from the MAKE IT IN LA website that she was introduced to the fields of STEM by an internship at a bungee cord factory.
"The experience was memorable in more ways than one," Cadena said. "I remember the working conditions, the product flow, the factory layout, and, most importantly, the lesson to do and be more."
Make in LA is an opportunity to connect and support a manufacturing ecosystem consisting of entrepreneurs, factories, and other resources.
On the Hybrid Hornets robotics team, there are six girls out of 15 students.
Students come together to build robots to perform different tasks to compete against other schools.
Sophomore Marisol Martin, who is one of the girls on the team, said as long as girls and boys have a passion for something, they should pursue it.
"You find a passion and you take off with it," Martin said.
Senior Chinyari Miles is also on the Hybrid Hornets team
She said she thinks girls don't join robotics or engineering as a whole because it's too male dominated.
"Being in robotics is awesome," Miles said. "But it's awkward being surrounded by boys because it's a more male-dominated sport. If you're the only girl on the team and you're surrounded by boys, it feels weird and uncomfortable."

About the Contributor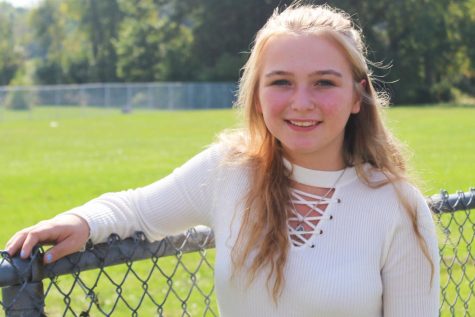 Riley Paris, Reporter

Birthday: Dec. 18, 2003
Hobbies/Interests: I enjoy reading, listening to music, and writing.
Favorite Quote: "You've gotta dance like there's...