Counelis aspires to put a smile on everyone's faces
Hang on for a minute...we're trying to find some more stories you might like.
Audri Counelis is a brown haired, hazel eyed, amusing girl.
Counelis is a humorous person, and is also always willing to make everyone around her happy.
Worrying about the happiness and well-being of others is one of the many characteristics Counelis obtains.
Born into a large family that consists of eight siblings, Counelis is the sixth child of Mr. Paul Counelis and Mrs. Crystal Counelis.
Siblings include Anakin, Aubriella, Miley, Makayla, Christan, Zakaree, Jessee, and Jason Counelis.
Counelis said that the day she found out she was going to be a big sister for the first time was one of the best days of her life.
"Ever since my sister Makayla and I were little, I'd hide behind the door before she'd walk in and scare her," Counelis said. "It's been years, and it still scares her even though she's now 19."
Counelis enjoys making others laugh and is always cracking jokes with the people she loves.
Aside from being comical, Counelis strives to make others smile, according to Mrs. Caitlin Manson, Spanish teacher.
"Audri has a great, subtle sense of humor and can always make me smile," Manson said. "She always tries her best to make others happy and feel good on many occasions. I have seen her compliment people to make them smile, and she is always an all-around nice person to the people she encounters."
Even though Counelis strives to make others happy, she is also fearful for her future and her nerves have begun to set in about what she is going to do after high school.
Although she does have some plans, she is not completely sure about them.
"I want to go to college to become either a social worker or a graphic designer," Counelis said.
But it is her dream to be a famous actor and to win Grammys and Oscars as a result of her work.
Aside from the stress, Counelis uses her kindness as a way to distract her from the bad.
"That's why I like the '80s," Counelis said. "Back then, times were better and the music was great."
Counelis' best friend, senior Niccos Patrick, said that Counelis is empathetic and kind.
"No matter what, she always loves and supports people 100 percent and wants nothing but the best for them," Patrick said. "She is amazing."
About the Contributors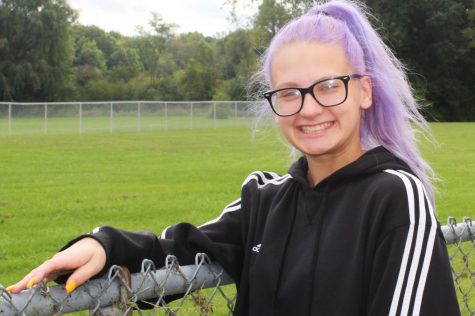 Racheal Cowell, Reporter
Birthday: July 29, 2001

Hobbies/Interests: Running.

Favorite Quote: "Road work ahead? Uh yeah, I sure hope it does." -Drew Gooden

Favorite...