Trivia Day celebrates knowledge lovers
Hang on for a minute...we're trying to find some more stories you might like.
Whether you love showing your geek pride or flexing your mental muscles, National Trivia Day, which occurs Friday, Jan. 4, gives you the perfect opportunity to wave your nerd flag.
Sophomore Matt Ehrmantraut enjoys trivia for its obscure details.
"I just like knowing things. It's fun to know facts," Ehrmantraut said. "I like history trivia, especially the weird stuff. It's always cool to know something true that doesn't sound real."
He plans to binge-read trivia content to show his love for information on the holiday.
"I will celebrate it by reading as many fact books as I can in 24 hours," Ehrmantraut said. "It'll be fun."
In 1966, Ed Goldgood and Dan Carlinsky published "Trivia," a book of cultural and historical facts that served little purpose in daily life but were significant to a generation.
The duo also created early college-level quiz bowl leagues that used the term trivia in its contemporary form.
Trivial Pursuit, the board game, was created in Montreal, Quebec, in 1979 by Chris Haney and Scott Abbott. The game is credited with increasing interest in recalling random factoids.
Trivia can span topics from the arts to history, from sports to music, from politics to virtually any other topic you can think of.
Millions participate in showing their trivia knowledge, and some high school students carry this passion to play in quiz bowl leagues.
Mr. Chris Schmidt, chess and quiz bowl coach, believes high school students' interest in trivia varies.
"I think there are some teens that do (enjoy trivia) and some teens that don't," Schmidt said. "I think it's just a desire to learn, to know stuff."
Some take their love of trivia beyond local quiz bowl leagues to national competitions and game shows, flexing their intellectual might in front of millions.
"Jeopardy!" is one of the most beloved game shows on air, and host Alex Trebek has become a pop culture icon.
Merv Griffin created the trivia show for NBC in 1964, using its trademark answer-question format that has become ingrained in the fabric of game show history.
Freshman Mikalyn Coon is an avid "Jeopardy!" watcher.
"I want to see how smart I am," Coon said. "Just seeing all the people, and how smart they are is fun."
About the Contributor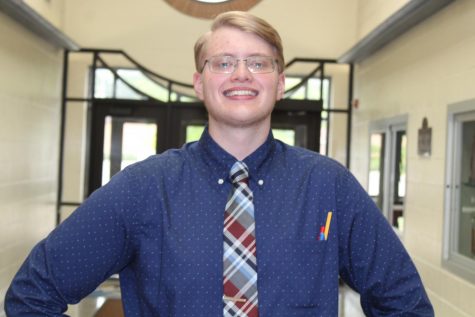 Connor Earegood, Editor in Chief
Class: Senior

Hobbies: I participate in quiz bowl, chess, robotics, Future Problem Solving, and many other "nerd sports."

Future Plans: I plan to...