DiGenova, Ruhstorfer advance to wrestling state finals
Hang on for a minute...we're trying to find some more stories you might like.
Two wrestlers, sophomore Trenton DiGenova and senior Andy Ruhstorfer, are advancing to the individual state finals at Ford Field.
DiGenova and Ruhstorfer placed in the individual regional at Gaylord, Saturday, Feb. 17, to qualify for the finals.
DiGenova won his early matches against Jimmy McMillan from Goodrich and Brady Triola from Fenton.
But DiGenova fell to Hunter Larson from Escanaba in the championship match, taking second in the 135-weight class.
Last season, DiGenova did not place in the district tournament, so he is proud of his improvements.
"I feel like I have accomplished a lot this season," DiGenova said. "Last year, I didn't even make it out of districts, so I'm really excited."
To make such a big improvement, he had to make some changes with his training. Most of the improvements he has made have been mainly mental.
"Last year I was scared of going into a match against a tougher opponent," DiGenova said. "Now I go into the match knowing I will win."
DiGenova's parents have helped him become the wrestler he is today.
"My mom is always positive and makes sure I'm prepared for the tournaments," DiGenova said. "My dad has always been there for me and has taught me many things I need in wrestling."
He is looking forward to the atmosphere of the state final.
"I'm excited to wrestle in front of a large crowd with all the energy from them on the big stage," DiGenova said.
At the finals, DiGenova's first opponent will be Gabe TeBos from Allendale. DiGenova is 31-10 this season, while TeBos is 45-6.
Ruhstorfer is looking forward to competing in his fourth state final.
Ruhstorfer won his first regional match against Jack Culvey from Brandon but lost to Gaylord's Derek Giallambardo.
He then wrestled Carson Turnbow from Goodrich. He won, taking third place in the 125-pound weight class.
Because this is his last high school season, Ruhstorfer is looking to go out with a bang.
"I am excited to compete in the biggest meet of the year four times in a row," Ruhstorfer said. "I'm bringing this one home for the boys."
Last year, Ruhstorfer didn't place in the final, but he is making changes to make sure that doesn't happen again.
"I plan on improving by keeping my head in the game and wrestling the meet of my life," Ruhstorfer said.
Ruhstorfer is looking forward to see where he stands in the state final.
To him, his biggest supporters are his parents, Mr. Tom Ruhstorfer and Mrs. Deanna Bartman, his coach, Mr. Luther Brown, and his girlfriend, senior Marysa Gatica.
"They have all pushed me to be my best in every situation," Ruhstorfer said.
Rhustorfer, who is 36-3 this year, is pitted against Stevensville-Lakeshore's Shane Williams, who is 33-7.
The finals are Friday, March 2, and Saturday, March 3, at Ford Field in Detroit.
About the Contributors
Emilie Lewis, Special Projects Editor

Birthday: June 3, 2000
Extracurricular activities: volleyball
Hobbies: Reading
Plans after high school: Go to college to be a sign language...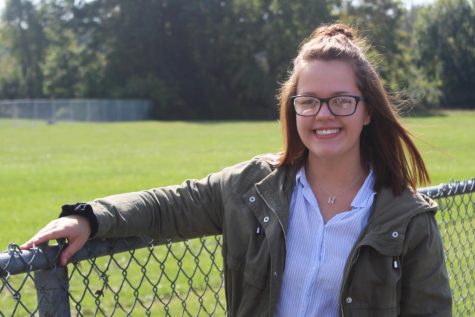 Jenna Robinson, Editor in Chief

Birthday: Oct. 26, 2000
Hobbies/Interest: Playing electric, acoustic, and bass guitar, as well as ukulele. I also enjoy drawing, reading, writing,...