Girls bowling defends its league title for the ninth straight year
Hang on for a minute...we're trying to find some more stories you might like.
The girls bowling team ended the Metro League season by winning against Flushing 19-11, Thursday, Feb. 15, and setting a state record for a two-game total.
With a 16-0 record, the Hornets finished their season undefeated with a league championship, once again, for the ninth year in a row.
With Flushing and Owosso finishing just behind Kearsley at 12-4, Swartz Creek ended the season in fourth place at 11-5.
The Hornets had a rough beginning when the Raiders took a 10-0 lead after the Baker games, but the Hornets didn't give up.
Kearsley came out with a 1,151 actual team game and fired back against Flushing, who had 821.
The final team game was when the Hornets held their power and won again with an 1,103 team score to Flushing's 871.
This combined two-game total was 2,254, which set a state record.
The total final pinfall for the entire match was Kearsley 2,619 to Flushing's 2,068.
Senior Barbara Hawes led the team for her last Metro League match with games of 223 and 259.
"I was out of breath the entire game even when I wasn't up to bowl because I was stressing out about it," Hawes said.
"
It was one heck of a way to go out with a bang."
— Barbara Hawes, senior
Hawes said she is proud of her team and herself for "buckling down" when it was needed.
"It was one heck of a way to go out with a bang," Hawes said.
Along with Hawes, sophomore Imari Blond pitched in greatly with games of 220 and 254.
Junior Alexis Roof also scored big games of 215 and 226.
After losing the Baker games, Roof said the team knew what needed to be done to win and added, "Honestly, none of us expected us to bowl as good as we did."
Roof and her team are now prepping for the regional tournament starting Friday, Feb 23.
Roof said on the way to the regional championship the team is "taking it one step at a time."
"Setting the state record yesterday has really shown us how good we are," Roof said.
After their singles tournament on Saturday, Feb. 17, the Hornets will prepare to compete in the MHSAA Division 2 regional tournament Friday and Saturday, Feb. 23 and 24.
If the No. 1-ranked defending state champs accomplish a victory, this will earn them a 10th regional win in a row.
The regional will be hosted by Bay City John Glenn at Monitor Lanes in Bay City.
One other team in the regional is ranked in the state. That team is No. 10 Bay City-John Glenn.

About the Writer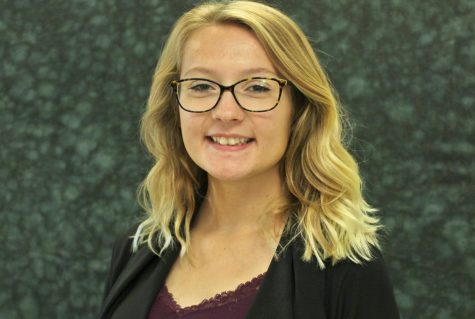 Hannah Hendley, Photography Editor

Birthday: February 7, 2000
Extracurricular activities: Tennis, dance, and float building.
Hobbies: Eating, reading, and drawing.
Plans after...