Women's History Month: Halsey inspires women across America
This story is part four of a five-part series.
March is known as Irish Heritage Month and the month March Madness occurs, but it is also known as Women's History Month. This month celebrates the many women who have sacrificed and pushed for equality and the respect they deserve.
There are thousands of women who deserve recognition in this month, and one of them is American singer-songwriter, Halsey.
Halsey's birth name is Ashley Nicolette Frangipane. She was born Sept. 29, 1994 and grew up in Edison, N.J., living with her parents and two brothers.
Halsey has struggled with being bipolar her entire life.
She has admitted that composing songs has helped her distinguish her emotions and personalities. Because of this, Halsey is an activist when it comes to the importance of mental health.
Some of Halsey's most popular songs are "Closer," "Ghost," "Colors," "New Americana," "Gasoline," and "Hurricane."
She sings about change, empowerment, and women getting a hold of their self-worth.
"
Halsey has incredible music and encourages young women to stand up for themselves and take charge in their own lives."
— Mary Wheeler, junior
Junior Mary Wheeler believes that Halsey is an amazing artist and speaks volumes through her songs.
"Halsey has incredible music and encourages young women to stand up for themselves and take charge in their own lives," Wheeler said.
The talented singer has also made it known that she is a feminist and wants to see change. This past January, Halsey attended the second Women's March in New York.
Halsey was asked to give a speech during the event. Originally, she was nervous about what she was going to say and how she was going to say it.
But Halsey tweeted: "The night before the march I penned this poem at 2 a.m. and the words spilled out of me like white water rushing down a river bend. I didn't realize how emotional it would be for me to speak my own truth, but it was."
During the march, Halsey recited her poem to the thousands of women participating in the Women's March.
She wrote this poem as a way to tell her own story about her experiences with sexual assault, oppression, and self-worth.
Halsey inspired the thousands of women and moved them with her words.
"Halsey touched a lot of hearts when she gave her poem," Wheeler said. "I think her poem affected women in a positive way. It uncovered the ugly truth about America."
She spoke about about women supporting women and lending a hand to those who need it.
"So love your neighbor and treat her kindly, ask her her story, and then shut up and listen," Halsey said.
Halsey encourages women to not discriminate and to have empathy for others, to place yourself in other people's shoes.
She wants to encourage and unite diverse women together. She reminds us that we are stronger together than apart.
Halsey continued with her poem: "Black, Asian, poor, wealthy, Trans, Cis, Muslim, Christian. Listen. Listen. And then yell on top of your lungs."
Halsey ended her poem by reminding the world that there is more work to be done in our communities. She reminds everyone to speak up and to speak out against the injustices that occur in our nation and across the world.
"Be a voice for those who have prisoner tongues, for the people who had to grow up way too young," Halsey said. "There is work to be done, there are songs to be sung, Lord knows there is a war to be won."
Halsey continues to inspire women with her music, poems, and involvement. She continuously fights for change and is a great role model for women.
About the Contributor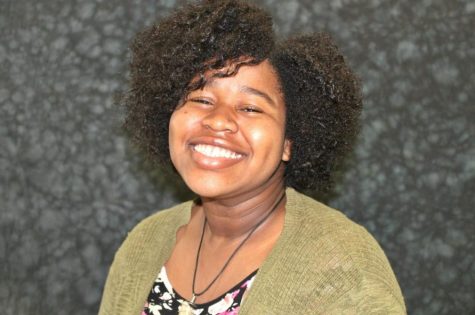 Alanna Montgomery, Reporter
Birthday: February 11, 2000

Extracurricular activities: National Honor Society
Hobbies: Henna art
Plans after high school: Attend college to...