Five students anticipate this year's top movies
Hang on for a minute...we're trying to find some more stories you might like.
With a new year being kicked into gear, many people are expecting cinemas to be full of new and exciting films.
Sequels and new installments in fan-favorites like the "Maze Runner" series and the "Spider-Man" franchise have fans debating theories and buying tickets in advance to watch films for the first time.
Students at KHS are expecting 2018 to reveal exciting new movies and installments in familiar series. Movies like "Aquaman" and "A Wrinkle in Time" have students preparing for cinematic masterpieces.
"Mary Poppins Returns"
This film is set to be released Christmas day and has many big names tied to it.
Emily Blunt will be portraying the practically perfect nanny Mary Poppins, while Lin-Manuel Miranda (best known for his involvement in the Broadway musical "Hamilton") will play Jack, a lamplighter and apprentice of Bert (Dick Van Dyke).
Other successful actors like Angela Lansbury, Colin Firth, and Meryl Streep will be taking part in the project.
The movie will be set in 1930s London, 20 years after the original film takes place. With children Jane and Michael Banks all grown up, Mary Poppins must travel back to Cherry Tree Lane to help Michael with his children after they all suffer a terrible loss.
Mallory Simms, junior, is ready to see how the movie measures up to the 1964 original
"I believe that it will be hard to make a new movie as good as the first one," Simms said. "But if they use some of the original cast, I believe that they will pull off a new family favorite, and it will be epic."
"Fantastic Beasts: The Crimes of Grindelwald"
The second film in the "Fantastic Beasts" franchise, which is a spin-off of the "Harry Potter" franchise, is expected to provide fans with much-needed information about the Wizarding World.
The movie will revolve around young Albus Dumbledore and his former best friend Gellert Grindelwald.
Fans of the "Harry Potter" series know that Dumbledore and Grindelwald are famous for competing in a duel that ended their friendship.
Grindelwald became a dark wizard who wanted power, coming to be known as the first Voldemort.
Eventually, Dumbledore was forced to defeat Grindelwald, which gave him an elite status among his peers.
Though fans know the basics of this infamous battle, they are craving more details about the relationship between the two wizards.
Grindelwald will be played by Johnny Depp, who has brought controversy to the film due to his highly-publicized divorce from ex-wife Amber Heard. Dumbledore himself will be portrayed by Jude Law, while Eddie Redmayne will reprise his role as Newt Scamander, the main character of the first film.
Junior Claudia Moore is happy that the "Harry Potter" universe is still being explored through new movies.
"I'm excited because 'Harry Potter' was a huge part of my life as a child, so to know that there's a new story for this generation makes me happy," Moore said.
"The Incredibles 2"
Disney released this film's teaser trailer in November and since then fans have been going crazy with theories and excitement over the new Pixar project.
The film will focus on Mr. Incredible, also known by his secret identity, Bob Parr.
Mr. Incredible will be staying home with his children while his wife Elastigirl, or Helen Parr, fights crime. The youngest of the Parr children, Jack-Jack, will be discovering his superpower during the film as well.
The movie will be directed by Brad Bird, who directed the first movie in 2004. Bird also voices the iconic character, fashion designer Edna Mode.
The sequel will be released in theaters June 15 with IMAX.
Senior Phillip Stites expects the film to bring back memories of watching the first film as a child.
"I'm excited about the second movie because I think that it will bring up childhood nostalgia," Stites said. "The first movie was my favorite as a kid."
"Mamma Mia! Here We Go Again"
This sequel follows the 2008 musical starring Meryl Streep and Amanda Seyfried as mother-daughter duo Donna and Sophie Sheridan.
The movie is actually a prequel, which focuses on Donna and how she opened her hotel on the small Greek island she calls home.
In the first film, viewers learned that Sophie had never met her dad, and she made it her mission to find him before her wedding day. The movie expresses conflict through ABBA songs and brings the original Broadway musical to the big screen.
The prequel will explain more about Donna's friendships from her childhood and relationships between the three boyfriends that may be Sophie's father (who fans of the first film were already introduced to).
Universal has announced that Cher will be joining the project, while bringing back original cast members like Julie Walters, Christine Baranski, and Pierce Brosnan.
Junior Madeline Raysin is a fan of the first movie and is looking forward to finding out more about the characters she loves so much.
"I'm most excited for the film because it's bringing back all the old characters and leaving a big mystery about the main character Donna," Raysin said.
"Avengers: Infinity War"
This superhero flick will bring together many heroes like Iron Man, Captain America, and the Hulk as the movie explores even more of the Marvel universe.
The movie follows the events that occurred in "Guardians of the Galaxy Vol.2" and "Captain America: Civil War."
The film will star Tom Hiddleston, Jeremy Renner, and many other actors familiar with the cinematic Marvel Universe. Actresses involved with the film include Cobie Smolders, Scarlett Johansson, and Zoe Saldana.
Behind the camera, the project will be directed by Anthony and Joe Russo, who have directed the last two "Captain America" films. The screenplay was written by Christopher Markus and Stephen McFeely.
Brady Perkins, junior, has been a fan of superhero movies for a long time. He is expecting "Infinity War" to be a major success for Marvel.
"Honestly, I think it will be the greatest Marvel movie ever and it will gross the most amount of money for a movie since 'Star Wars Episode 7' or 'Jurassic World,'" Perkins said. "In other words, it will be the greatest Marvel movie ever."

About the Contributor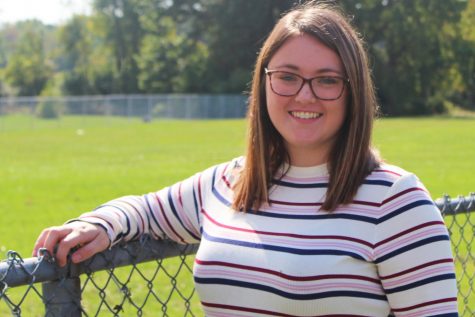 Autumn Prescott, Special Projects Editor

Birthday: Aug. 2, 2001
Hobbies/Interests: NHS, drama club, Freshman Mentors.
Favorite Quote: "Find out who you are and do it on purpose."...