2017 was rough, so I'm hoping for better luck in the new year
Hang on for a minute...we're trying to find some more stories you might like.
I'm glad 2017 is coming to an end.
Bad luck seemed to follow me this entire year.
It didn't start out so bad. I celebrated the new year with two of my best friends, Hannah Newsom and Kylee Middleton.
This was really fun, but I haven't been able to see one of my friends since then because she lives in Florida and was only up for a short visit.
I also got to be a bridesmaid in my cousin's wedding. This was such an awesome experience because it's something I'd been looking forward to practically my whole life.
It was a little traumatic, however, since I unknowingly was drinking sparkling grape juice thinking it was champagne — something my family still doesn't let me live down.
I also got the chance to see two of my favorite bands perform in March — Panic! At The Disco and Green Day.
My life seemed to be going great, I felt on top of the world.
But, as I said, bad luck followed.
In May I took my road test and passed. It was a Saturday, which meant I couldn't go to the Secretary of State until later in the week, but I was still excited.
The next day I was riding my longboard — a gift from my sweet sixteen that I so desperately wanted.
I ended up breaking my ankle really badly.
I was on crutches for what seemed like forever, I had surgeries, and a whole lot of pain.
This was a really hard experience for me, especially since it was almost the end of the school year. Missing a great deal of school really stressed me out — especially in AP World History, which was a curse of it's own to me.
I managed to pass my exams with A's and was let out for summer, a joy for everyone except me.
I had a ton of physical therapy, and I had to play my concerts in chairs until I could walk again.
Finally, when everything seemed back to normal, my incision became infected. It wasn't properly closing with all of the added equipment.
So I had another surgery.
By the time I was back to normal, summer was almost over. I was pretty sad because many of my summer plans got pushed aside during my recovery.
Then, as soon as I thought the worst was over, I got hit with bad luck again.
I woke up one morning with what I thought was back pain. Throughout the morning it became worse and worse until I became sick from the pain. My mom took me to the emergency room — a place we've become all too familiar with.
After hours of waiting and talking to doctors, I discovered I had a large, 10 centimeter cyst. There was nothing they could do except give me medicine for the pain. Thankfully, I recovered fairly quickly.
School was starting in only a few days. Yikes. But that turned out to be the least of my problems.
Two days before school started my cat, Ralphie, become unexpectedly ill and passed away late in the night after the vets did all they could at the clinic.
I was absolutely heartbroken. Ralphie was a huge part of my family, and his loving personality touched the hearts of everyone he met.
2017 has seemed to be a year filled with many different experiences of pain, emotional and physical.
I am glad to be saying goodbye to it.
I welcome 2018 — begging that I have better luck.
About the Writer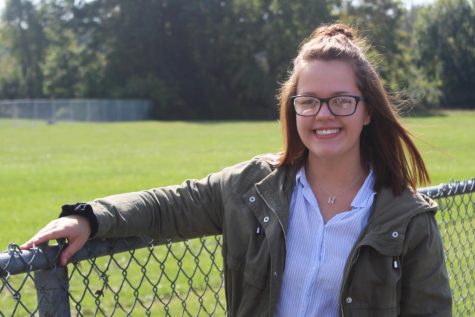 Jenna Robinson, Editor in Chief

Birthday: Oct. 26, 2000
Hobbies/Interest: Playing electric, acoustic, and bass guitar, as well as ukulele. I also enjoy drawing, reading, writing,...