Online hacker holds teen's computer hostage
Hang on for a minute...we're trying to find some more stories you might like.
It's a common belief that the elderly are often the sole victims of hackers and online viruses.
However, a Kearsley student was recently tricked into clicking on a website that left her with a virus and opened a door for a hacker to get into her computer.
Senior Hannah VanOoteghem purchased a laptop computer Oct. 1. When she got home, she promptly installed the security system and the computer seemed to be working fine.
However, after one particular click, VanOoteghem's luck quickly changed.
"The very first link I clicked locked my computer," VanOoteghem said. "The next thing I know, the screen is bright red and the message said, 'Your computer has been infected by the Trojans.'"
VanOoteghem tried to click back on the link, exit out of the screen, turn the computer on and off, and reboot the computer.
Nothing worked.
The same bright red screen continued to pop up and give a number to call.
After purchasing the computer with money she saved, VanOoteghem said she panicked.
"After spending $985, I was shaking and about to cry," VanOoteghem said. "I was in no shape to try and fix this computer, let alone call someone to help me."
At the time, VanOoteghem was with a friend who ended up calling the number. A man, whom VanOoteghem said had a foreign accent, answered the phone and claimed to be from California.
But what frightened VanOoteghem the most was that he was inside her new computer, controlling every click.
"I just see the mouse moving all over the screen, checking my files, and downloading a bunch of other files," VanOoteghem said. "The next thing I overhear is that I'm going to have to spend $300 extra if I ever want to unlock my computer."
What the hacker did was hold VanOoteghem's computer hostage, demanding money before allowing her to use it.  More than likely, the hacker installed Ransomware on her computer.
VanOoteghem started deleting everything that the hacker had downloaded. After 30 minutes, she said the computer seemed to work.
Later, VanOoteghem was informed by one of her mother's co-workers who understands computers that the hacker could still access her computer since he installed a key logger into her computer, which made it so that everything she does and types is visible to the hacker.
This co-worker was able to reset the computer back to the manufacturer settings (the original state of the computer) and wipe out the key logger.
"Thankfully, my computer is now safe and I don't have to worry about the (hacker) guy watching everything I do," VanOoteghem said.
Mr. John Earegood, PC repair expert, gives advice on how to prevent viruses and hackers.
"Always make sure your antivirus protection is current with all updates available," Earegood said. "Never use unsecured WiFi, and never open emails from people you don't know."
Earegood said that viruses and hackers can be removed with varying levels of difficulty.
"Viruses can be easily removed with any available software, such as Norton, McAfee, Bitdefender, PC Matic, and more," Earegood said. "Hacking usually requires more work to get your PC up and running, like wiping the hard drive, or reinstalling the operating system."
About the Contributors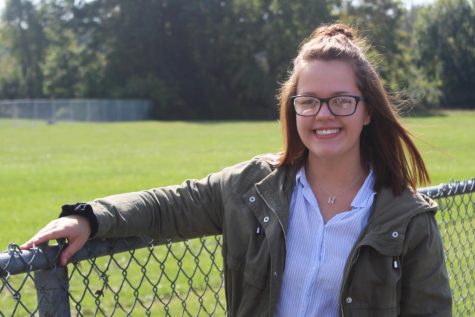 Jenna Robinson, Editor in Chief

Birthday: Oct. 26, 2000
Hobbies/Interest: Playing electric, acoustic, and bass guitar, as well as ukulele. I also enjoy drawing, reading, writing,...
Emilie Lewis, Special Projects Editor

Birthday: June 3, 2000
Extracurricular activities: volleyball
Hobbies: Reading
Plans after high school: Go to college to be a sign language...