'Grey's Anatomy' kicks off season 14 with plenty of drama, romance
Hang on for a minute...we're trying to find some more stories you might like.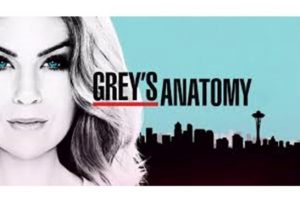 Season 14 of ABC veteran show "Grey's Anatomy" began Tuesday, Sept. 28. The show has been on the air since 2005 and has kept audiences interested through captivating plot lines and ever-changing characters.
(Spoiler alert — If you're a fan but have not yet seen the first show, stop reading now. Watch the show and then come back and read this.)
The premiere began with Army veteran Megan Hunt returning to Seattle after being presumed dead for over a decade.
The Army vet is transported to Grey-Sloan Memorial Hospital where she reunites with her brother Dr. Owen Hunt, head of trauma, and former fiancé, cardio surgeon Nathan Riggs.
Throughout the two-hour premiere, Megan offers details into her life as a captive in Iraq and catches up on her family and friend's lives.
She ends up needing surgery for an abdominal injury and Meredith Grey, head of general surgery, volunteers for the job.
This causes complications because in the previous season Meredith and Nathan had become romantically involved.
The season 13 finale left things resolved with the couple when Meredith told Nathan to run to Megan and that she would do the same if it were her true love.
But with Tuesday's premiere, it's obvious that Meredith and Nathan are still interested in one another and that their feelings aren't going to go away as easily as they'd hoped they would.
While Meredith gets over her emotional hurdles with Nathan, she manages to perform a revolutionary abdominal wall transplant on Megan, which will help hundreds, if not thousands, of soldiers with the same injury all over the world.
The "Grey's" return also provided audiences with a bit of romance.
Jo Wilson, surgical resident, struggles with the revelation that while her former boyfriend, Alex Karev, may put himself in dumb and sometimes dangerous situations, she can't deny the fact that she's in love with him.
Throughout the episode, Jo tries to convince herself that her feelings are wrong and that the smart thing to do would be to avoid Alex as much as possible.
At the end of the episode, however, she throws caution to the wind and confesses her feelings to Alex, who tells her he feels the same way.
Another fan favorite, Chief of Surgery Miranda Bailey, struggles with societal issues during the premiere.
She complains to her husband about society's double standards when it comes to being a female leader.
She particularly finds a problem with the expectation that she must wear heels every day, and by the end of the episode the audience finds her walking around the hospital in her always-dependent flat shoes.
The season 14 premiere of the show offered drama, romance, and conflict throughout the entire two-hour time slot.
It answered questions while providing plenty more and kicked off a promising new season for "Grey's" fans across the country.