Local bands offer great music
Hang on for a minute...we're trying to find some more stories you might like.
Supporting local bands is an important part of the music industry. Giving these bands support helps them grow, whether it be into famous bands that tour internationally or just growing their love and passion for music.
Shady Groves
Shady Groves is a band based in Lapeer that was started by three musicians.
The original members included Adam Fitzgerald, Dylan Caron, and Jeff Yateman.
The current band members are Fitzgerald and Caron as the guitarists, singers, and main song writers, as well as Jamie Dulin as the bass player, Colt Caron as the keyboardist, and Sage Denam as the drummer.
Fitzgerald feels that local music is important because it's the starting point for all great bands and musicians.
"I helped start the Detroit underground independent music festival called 'Whateverfest,' so I think local music is extremely important," Fitzgerald said. "All music starts on a local level so to not support local music means you aren't really supporting music as an industry or the musicians who need help the most."
Here is their YouTube channel.
One Ten
One Ten is an alternative rock band created by the four members while they were in high school.
The band members are from Flint and Lapeer.
Members include Thad Park and Marc Brooks on guitar, John Coote on bass guitar, and Matt Wiskur on drums.
The boys described their music as being influenced by bands such as Red Hot Chili Peppers, A Day To Remember, Metallica, and Green Day.
Park said the opportunity to form this band has brought all of them many new experiences they wouldn't have without music.
"Our band brought us together," Park said. "This group of people would have never been friends in a normal environment."
Coote feels like it's important for people to support them and other local bands because that's where all the great bands start, just a few buddies wanting to make music.
"Local music is important because there are many young bands that are full of potential, and they need a place to get started," Coote said. "Local venues are where almost every band starts out, and it also adds a sense of community and friendship within the local sense."
Here is their YouTube channel.
Lords of October 
Lords of October is a band based in the Flint area.
The members are disguised as different characters.
Paul Counelis is the vocalist and performs as Uncle Salem, Zak Randol plays guitar and performs as Aleister Kane, David Stashko plays bass guitar and performs as Lucifer Fulci, and Matt Wansitler plays drums and performs as October Phoenix.
Music brought a new, creative outlook in Paul Counelis' life.
"My band has brought so much into my life," Counelis said. "I was pretty down without the creative outlet of writing and playing music, and I treasure making connections with a live crowd. The energy and focus are a big boost and I just love music in general. I saw my first all-ages show as a teenager, and it was electric, and I wanted to be part of that."
Counelis said performing music locally is a good way for the band and audience alike to channel feelings they wouldn't otherwise know how or be able to let out.
"Local music is an outlet, for bands and fans alike, to get out pent-up frustration and aggression in a positive way," Counelis said. "Beyond that, many local bands participate in community events, like fundraisers and benefits."
Here is their YouTube channel.
Deadbeat Beat
Deadbeat Beat is a band that originally started in Detroit and is currently touring around the country.
Members include Zak Frieling on bass guitar, Alex Glendening on guitar and vocals, and Maria Nuccilli on drums and vocals.
Frieling believes that music gives people the opportunity to meet new people and see new places through a common passion.
"One of the biggest benefits I think is the people you get to meet," Frieling said. "Like-minded musicians and music fans in other towns, or in your own, or in bands that are on tour themselves.
"We've made lots of great friends all over, and we're really fortunate to be able to travel and play in different towns and states, and we also love helping out and hosting friends when they come to Detroit."
Frieling said local music is important because it allows a community of musicians and people who love music to grow and bond together without any boundaries except for the pure love of music.
"Supporting local music is super important, and something we've all been a part of for a really long time," Frieling said. "It can be really inspiring seeing friends develop as musicians and find success.
"There's so many good bands in Detroit, it makes it really easy too. We had a lot of really supportive bands and friends and fans early on, and it's great seeing new bands and helping that tradition continue."
About the Contributors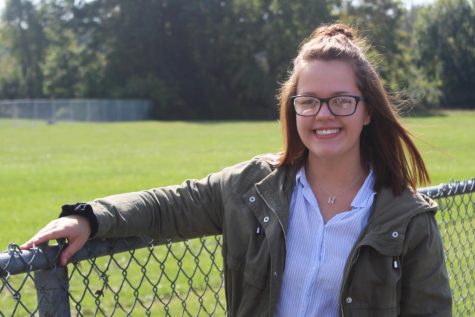 Jenna Robinson, Editor in Chief

Birthday: Oct. 26, 2000
Hobbies/Interest: Playing electric, acoustic, and bass guitar, as well as ukulele. I also enjoy drawing, reading, writing,...