Binge watching is easy with these 10 Netflix shows
Hang on for a minute...we're trying to find some more stories you might like.
Spending hours upon hours watching your new addicting show is your favorite pastime.
You are enjoying yourself and find yourself obsessed, but then, you reach the end.
You watch the finale and realize its over.  But now you're lost. What do you do?
Don't fret, for here are 10 shows that you can watch.
"American Horror Story"
Frighteningly unique, every season of AHS is different. There's a new plot, new characters, and new horrors.
Season one starts off with a cheating husband, a forgiving wife, and a depressed daughter deciding to move into a new home. Little do they know the horrors that have occurred in their new beloved house.
Season two begins in an insane asylum, where not everyone is as crazy as they seem, and others are more crazy than they let on. How can anyone survive the torture?
Season three is full of witches. "Coven" follows different types of witches wishing to become the Supreme, or ultimate, leading witch. They are even willing to murder for the title.
Season four is freaky and is aptly named "Freak Show." A circus with conjoined twins, miniature ladies, bearded women, and men with freakishly large fingers.
Season five takes place in a hotel. A cop is trying to solve a case where the murderer seems to be following pieces of the Bible and sets up shop in the Hotel Cortez. Unfortunately, the hotel is crawling with vampires, ghosts, and other horrifying creatures.
Did I mention Lady Gaga is in season five? I didn't?  Well, she is.
Season six is Roanoke, which follows a married couple hoping to move to a new place to escape the violence and tragedy of their old home. Not long after they move, disturbing events being to happen.
IMDb gave this show an 8.2 out of 10 stars and there are five seasons on Netflix.
"Bates Motel"
"Bates Motel" is the kind of show for you horror/gore fanatics. The show is based off of the 1960 film Psycho.
Norman Bates, an awkward, slightly weird, but very sweet teen discovers his father lying dead in his garage. It seems as if a shelf in the garage has fallen on top of his father as he was doing something in the garage.
To escape the tragedy and begin a new life, Norma, Norman's mom, decides to move the duo away. They move to a little town called White Pine Pay in Oregon. Norma, on an urge to just begin again, decides to buy a motel.
As you soon find out, life isn't a smooth ride for the Bates. Trying to run a business in a new and small town, trying to grieve and move on, and also trying to remain sane over all the drama and crime in the town is difficult.
Norma realizes that her son isn't the most normal child in the world, regardless of having "norm" in his name. Norman makes new friends and acquires new enemies in this creepy and thrilling show.
IMDb has rated it an 8.1 out of 10 stars and Netflix currently has four seasons.
"Friends"
This '90s sit-com is based on a group of friends who live in New York City in the same apartment building.
The show begins with character Rachel Green arriving in the coffee shop, The Central Perk, clad in a wedding dress with tears, because she left her fiance at the altar. Green decided to move in with her high school friend, Monica Geller.
The show also  involves the friends Ross Geller, Chandler Bing, Phoebe Buffay, and Joey Tribbiani. The story follows them in their wacky and interesting daily activities, involving accidentally marrying each other in Vegas and having your ex-wife/child's mother become a lesbian.
IMDb rates this show a nine out of 10 stars. There are 10 seasons on Netflix.
"Gossip Girl"
Now this one goes out for my drama lovers!
Gossip girl follows rich teens in the upper east side of Manhattan. Dan and Jenny Humphrey aren't actually as rich as everyone else, but they still go to the same schools.
They story takes place mostly at the two high schools. There's St. Jude's School for Boys and then its sister school, Constance Billard School for Girls.
The story line mainly follows Serena van der Woodson, Blair Waldorf, Chuck Bass, and Nate Archibald. Their parents are sometimes showed as well.
So the big thing in this is Gossip Girl, a blog that everyone follows. Gossip Girl somehow knows all the popular rich kid's secrets and always has some big bombshell to drop.
Each episode is full of drama, emotion, and leaving you wanting more. The drama includes back stabbing friends, cheating, fights, and more.
There are six seasons on Netflix and IMDb rated it a 7.4 out of 10 stars.
"Grey's Anatomy"
Grey's follows Meredith Grey, an intern at Seattle Grace Hospital. Being the daughter of a famous and exquisite surgeon, Ellis Grey, she has much to live up to.
Meredith meets Derrick Shepherd on a night out and he spends the night. Saying their goodbyes in the morning, they go their separate ways. Or so they thought. They actually find out that they both work at the same hospital now, Derrick being a neuro surgeon and Meredith being an intern.
It shows how hectic it can be to work in a hospital and how much work it takes to become a surgeon, but it also follows others who work at the hospital and displays their relationships together.
This is a drama packed with high intensity and is an emotional roller coaster of a show.
IMDb has rated it a 7.7 out of 10 stars. Netflix has 12 seasons.
"New Girl"
Jess Day is a sensitive, musical, hilarious schoolteacher who had her heart broken by a cheating boyfriend. She ends up moving in with three men: Nick, Schmidt, and Winston. This is a major change for these men, but not an unwelcome one.
Her quirky ways seem to fit in with this trio.
Nick is kind of a slob and is a little too flirty with Jess. Schmidt used to be fat but is now smoking hot and a womanizer. Winston is the funny guy who loves basketball and the ladies.
Jess also has a best friend, Cici, whom Schmidt adores.
Oh, when they say something inappropriate or self-centered, they have to put money in a jar.
Emotions will fluctuate throughout the show, but your laughter will never end.
 IMDb gave this modern comedy a 7.7 out of 10 stars and there are five seasons on Netflix.
"Stranger Things"
The 1980s was a wonderful decade for many people and definitely a decade that was unforgettable. Well, that's the setting of this hair-raising show.
There's a group of four boys: Will, Mike, Dustin, and Lucas. They are young and adorable and enjoy bike riding together. All is well, until Will disappears.
No one knows where Will has gone, and his mother, Joyce, is freaking out. She is trying to get the help of Chief Hopper, but he has baggage and grief of his own.
One day, out of the blue, a little girl with no hair shows up with an obsession with Eggo waffles. She's very shy and government officials are after her. Mike and his two buddies find her and call her Eleven.
Mike's sister, Nancy, and Will's brother, Jonathon, go to school together and form a strong bond because of Will's disappearance.  Soon, Joyce begins to mutter things about being able to talk to Will and people start to freak out. Eleven also seems to have a connection to it all.
In this small town of Hawkins, Ind., new, unimaginable things are going to arise and shake up their world.
IMDb gave this show nine out of 10 stars and Netflix has the first season. It may not seem like much to binge on, but it's totally worth it.
"Supernatural"
The story starts off with Mary Winchester waking up to see where her husband, John Winchester, is.
Walking downstairs, she discovers her husband is asleep in a chair, but she saw a man in her son, Sam's, bedroom. Going into the room, Mary sees a demon, Azazel, standing over her son's crib.
Hearing his wife's scream, John awakens and runs upstairs. Seeing his wife on the ceiling burning, he grabs his son Sam and hands him over to his other son, Dean, and sends them outside.
This intense and somewhat scary show follows the brothers and their mission of trying to find their dad and hunting monsters.
IMDb has given it an 8.6 out of 10 stars. There are 12 seasons on Netflix.
"The Munsters"
This cute little comedy from the '60s portrays a funny little family — the Munster's. The funny spin on the word monster really clues you in on the show.
Herman is Frankenstein's monster and is the father of Eddie, who is a werewolf. Grandpa is Dracula and his daughter is Lily, the wife of Herman and the mother of Eddie. Lily is a vampire like her father. Their niece Marilyn lives with them, and she's just a regular person.
Her family actually doesn't see anything wrong with themselves and become confused when people look at them funny. This show documents the Munsters in their everyday life with normal people.
Oh, and Grandpa has a laboratory in the basement where he does experiments.
There are two seasons on Netflix and IMDb ranked it 7.9 out of 10 stars.
"The Vampire Diaries"
"Vampire Diaries" starts off focusing on Elena Gilbert, a teen who lives in Mystic Falls with her aunt Jenna and brother Jeremy. Elena's parents recently passed away, and she's trying to get back into the swing of things.
Walking out of class, she bumps into the very attractive Stefan Salvatore. They seem to hit it off right away.
Later on you meet Stefan's brother, Damon. The attractive brothers are, of course, vampires.
The show follows Elena and her friends and the different creatures that inhabit Mystic Falls, like witches and werewolves.
Each episode is action-packed and new conflicts arise at every corner.
By the way, Elena has a doppelgänger, or someone who looks identical to her, who is a vampire.
Netflix currently has seven seasons and IMDb gave it a rating of 7.8 out of 10 stars.

About the Writer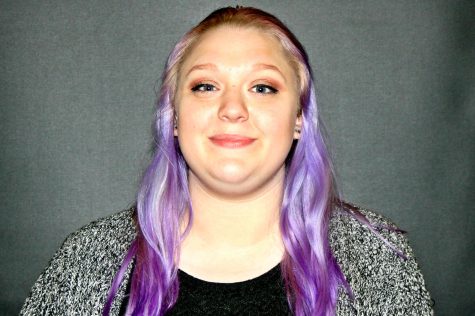 Ashley Harroun, Reporter
Sophomore

Birthday: May 20, 2001
Extracurricular activities: Student Council
Interests: I love animals, reading, drawing, and listening to music
...