Colin Powell served as the first black chairman of the joint chiefs of staff
Hang on for a minute...we're trying to find some more stories you might like.
When asked about the story of Colin Powell, sophomore Shelby Cragg said, "His story is inspirational. It's a step forward for African-Americans everywhere."
Powell grew up in Harlem and was born to poor Jamaican immigrants.
After graduating from City College of New York and receiving a bachelor's degree in geology, Powell joined the Army.
He was the first black chairman of the Joint Chiefs of Staff.
He received a purple heart during his first tour in the Vietnam War after stepping on a Punji stake.
During his second tour, Powell saved three people from a burning helicopter crash and received the Soldier's Medal.
Powell also became President Ronald Reagan's national security adviser after the Iran-contra affair.
In 1989, Powell was promoted by President George H. W. Bush to the position of chairman of the Joint Chiefs of Staff.
He became a national figure during Operations Desert Shield and Desert Storm.
Retiring from the Army in 1993, Powell has continued to play a major role in American politics, serving as Secretary of State in George W. Bush's administration.
Powell is the creator of the "13 Rules of Leadership" and lived by these throughout his military career.
His service as the chairman of the Joint Chiefs of Staff is significant, especially today, because he was the first and, so far, the only black man to hold this position.
Powell's accomplishment holds even more inspiration as we celebrate black history month.
Freshman Ethan McArthur believes Powell can be a motivation for many Americans.
"Like anything, being the first can inspire others to follow in your footsteps," McArthur said, "It makes a goal more reachable, it makes it possible."
Powell gained some momentary fame when he criticized the 2016 Republican primary as being similar to a reality show and wanted the Republican candidates to "stop with the nastiness."
Powell is a member of the Republican Party but did, however, endorse former President Barack Obama during both of his campaigns.
Even as Powell ages, his service to his country and the black community will not be forgotten.
About the Contributors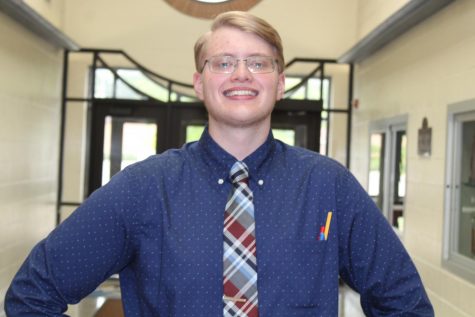 Connor Earegood, Editor in Chief
Class: Senior

Hobbies: I participate in quiz bowl, chess, robotics, Future Problem Solving, and many other "nerd sports."

Future Plans: I plan to...