Top 5 plant-based fast food items
The rise in popularity of plant-based meals has grown exponentially over the last few years.
More people have turned to plant-based diets, such as vegetarianism and veganism, for many personal reasons.
Fast food restaurants have caught on to the trend, offering many more options for vegetarians and vegans alike.
Here are five plant-based items from fast food establishments that can satisfy anyone who is looking to eat plant-based.
Freakin Unbelievable Burgers' Black Bean Burger
Listed under their Specialty Burgers, the Freakin Unbelievable Burgers' Black Bean Burger is a cheap and delicious menu item for anyone interested in eating a more plant-based sandwich.
The burger is composed of a black bean patty, a spread of Boursin Cheese, a Thai Glaze, avocado, slices of cucumber, spring mix, tomato, and red onion.
There are other vegetarian/vegan options at Freakin Unbelievable Burgers, such as the Portobello Burger or a custom Impossible Burger, but the Black Bean Burger tops them both.
Although the Black Bean Burger doesn't look like your typical burger, it delivers in a unique taste and elevates the Black Bean Burger's game.
Culver's Harvest Veggie Burger
The Culver's Harvest Veggie Burger is an easy vegetarian meal that impresses every time.
The patty consists of fire-roasted chickpeas, mushrooms, peppers, corn, and real Wisconsin cheese.
It is then topped with lettuce, tomato, onion, pickle, and mayo, and sandwiched between a lightly toasted bun.
The burger can be paired with fries and a drink to make one hearty meal.
Vegetarians and meat-eaters alike can enjoy this burger.
Junior Lauren Rice recommends this burger to anyone who wants to give it a try.
"The overall taste of the bun, pickles, and patty are good as their own sandwich." Rice said. "I would recommend it."
Burger King's Impossible Whopper
If you are looking for a more 'meat-y' burger, the Impossible Whopper from Burger King is the way to go.
The Impossible Whopper is a flame-grilled patty, developed by Silicon Valley-based Impossible Foods, made from plants.
The patty is topped with tomatoes, onions, lettuce, mayo, ketchup, and pickles.
For a completely meat-free meal, ask for the burger to be cooked in the non-broiler method.
This option can be made vegan as well. Just ask for no mayo and you have a completely vegan burger.
This burger is able to mimic the look and deliver the heartiness of an actual beef burger.
Taco Bell's Black Bean Crunchwrap Supreme
Taco Bell's Black Bean Crunchwrap Supreme is a great option for plant-based people who do not want a burger.
The Black Bean Crunchwrap Supreme is exactly like their Crunchwrap Supreme, but instead of the seasoned beef, there are black beans instead.
This menu item is filled with black beans, nacho cheese, tomatoes, lettuce, and sour cream, which is layered between a tostada shell, and wrapped in a tortilla.
This item can be made vegan, just by asking to "Make it Fresco," which removes the nacho cheese and the sour cream.
This item is very filling, satisfying, and a perfect meal to take on the road.
Many other items can be made both vegan and vegetarian by simply replacing the meat with black beans.
Starbucks' Plant-Based Breakfast Sandwich 
For the breakfast lovers, there is the Plant-Based Breakfast Sandwich from Starbucks.
The sandwich consists of an Impossible Sausage patty made from plants, a plant-based egg patty, and a plant-based Cheddar-style slice, that is served on a toasted whole-wheat English muffin.
This sandwich is completely vegan and delicious.
It tastes very similar to a normal breakfast sandwich, replicating the heartiness of a normal breakfast sandwich.
There are other plant-based options at Starbucks, such as the Tomato and Mozzarella Panini, but the Plant-Based Breakfast Sandwich is one of the only completely vegan options at Starbucks.
Leave a Comment
About the Writer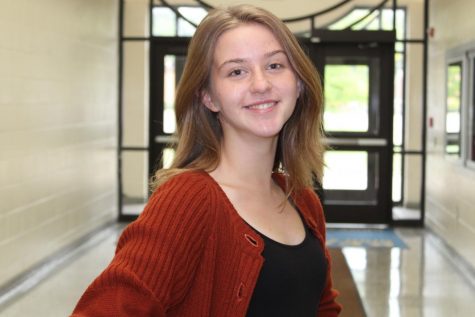 Molly Gunn, Special Projects Editor
Class: Junior

Hobbies: Volleyball, tennis, sailing, and cooking.

Future Plans: I would love to go to college to study culinary, law, or mathematics....