COVID-19 is a story for the grandchildren
Everyone says this will be a story to tell our grandchildren someday. Living through the pandemic is something none of us have ever lived through before, so here's the story to tell our grandchildren:
On December 31, 2019, Chinese health officials confirmed that dozens of people in Wuhan, China were being treated with pneumonia that was caused by an unknown source.
On January 11, Chinese media reported the first death from COVID-19.
Moving forward to January 21, the first case of coronavirus was confirmed in the United States.
On January 30, the World Health Organization declared a global health emergency.
At this time, no one seemed to be worried about the virus.
We knew it was happening around us, but we never thought that it would affect us personally. Schools remained in session and U.S. citizens continued on with their everyday lives.
Throughout the month of February, cruise ships were placed on quarantine and the virus continued to spread, but we continued on with everyday activities.
On February 29, the first reported death from coronavirus was reported in the United States.
We lived as if nothing was happening, but little did we know what was to come.
March 10 came with a shock to Michigan residents. The first two confirmed cases were declared in our own backyard, one in Wayne County and one in Oakland County.
Gov. Gretchen Whitmer declared a state of emergency.
Michiganders became slightly more confused and scared of what might happen. They began to brace for whatever was coming.
Thursday, March 12, changed life as we knew it.
Whitmer announced that all Michigan schools would close beginning Monday, March 16, through April 5.
MHSAA suspends all sporting events. Disney parks announced shut downs and temporary closure. Community events were canceled.
Throughout the rest of March, the number of confirmed cases and deaths rose with each day.
We were told to social distance and "stay home, stay safe." All businesses deemed non-essential to human life were closed, per Whitmer.
The state of Michigan was placed under a stay-at-home order.
On April 2, Whitmer ordered all schools to remain closed through the rest of the academic year. Students realized that they would not have a normal summer, and seniors learned that March 12 was their last normal day of high school.
The times seem everlasting and day by day, the pandemic drags on. The stay-at-home order has been extended time after time.
School children around the nation were brought to distance learning, a form of online learning that many had never been exposed to.
Many high school seniors lost their prom, graduation, and many other senior activities.
Health care workers began living in campers or hotels and avoided seeing their own families, in fear of bringing the virus home. They all were strong, but yet weak to the face of how much death they had seen in just one day.
Other essential workers — grocery store workers, restaurant employees, and delivery service workers, just to name a few — risked their lives every day to allow others to gain access to necessities.
Restaurants begged customers to come and order take-out, while many of their long-time customers are fearful of them.
What about everyone else?
Everyone else was stuck at home and away from work. People only left the house when necessary.
Although many people began working from home, the unemployment rate in Michigan rose from 3.6 percent in February to 4.1 percent in March.
Grocery stores are now places of fear, parks now have more visitors than ever before, and the number of cases continues to rise.
Society changed in a number of ways.
We are now fearful of each other and avoid strangers at all costs.
Society has become more divided than ever. Some believe that this is all a hoax. Some even protested against the stay-at-home order and stood in front of the capital armed with guns and signs.
At the same time, communities are coming together while physically staying apart.
Families spend more time together than ever before.
Community members are making masks and ear savers to donate to healthcare workers.
Birthdays are celebrated with drive-by parades.
Friends and families find other ways to come together while still staying apart.
May comes with hopeful new beginnings. The confirmed case numbers and death totals have begun to level out and slow down. Everyone holds hope that we will begin to reopen soon.
This pandemic has brought many emotions and issues, but we all have our own versions of them.
Remember these dates and this time. As everyone says, it will be a story to tell our grandchildren someday.
About the Writer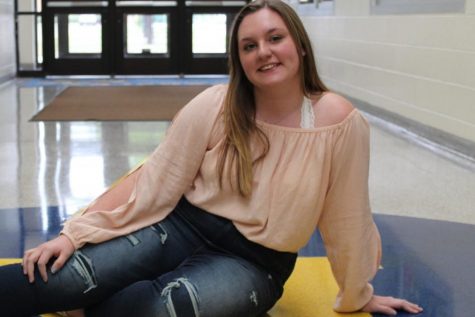 Elizabeth Taylor, Managing Editor
Class: Senior

Hobbies: Horseback riding and bowling.

Future Plans: I plan on attending a university to study optometry.

Favorite Book: "The...