'The Innocence Files' exposes wrongful convictions
In 2019, 143 people were exonerated of crimes they didn't commit on the basis of official misconduct, mistaken eyewitness identification, false confession, perjury, and false or misleading forensic evidence.
The Innocence Project, founded in 1992 by Peter Neufeld and Barry Scheck, fights for those incarcerated for crimes they didn't commit.
The Netflix original series "The Innocence Files," directed by Roger Ross Williams, was released April 15.
The documentary takes a close look at the cases of Kennedy Brewer, Levon Brooks, Keith Harward, Franky Carrillo, Thomas Haynesworth, Chester Hollman II, Kenneth Wyniemko, and Alfred Dewayne Brown.
This docuseries exposes the errors of law enforcement that ruined the lives of many and took away their freedom based on little, faulty, or no evidence.
Episodes one and two discuss the murder of two 3-year-old girls, Courtney Smith and Christina Jackson, who were both kidnapped and murdered in Noxubee, Miss., within two years of each other. Both cases were so similar yet no investigator connected the two.
Brooks was convicted of capital murder and sexual battery of Smith Jan. 20, 1992, and was sentenced to life in prison without the chance of parole. Brewer was convicted of the same charges in the murder of Jackson March 24, 1995, and was sentenced to death.
Both pleaded innocent during their trials but were convicted based on the bite mark evidence found and sustained by a forensic dentist, Dr. Michael West.
Episode three introduces Harward's case where he was convicted of the murder of Jesse Perron and the sexual assault of Teresa Perron and barely escaped the death penalty.
Harward was also convicted based on bitemark evidence, as well as Teresa's eyewitness testimony. New DNA evidence proved Harward's innocence and directed the investigation towards Jerry Crotty, a man who had died 10 years earlier.
Episodes four and five tell the story of Carillo, a man who was convicted of the murder of Donald Sarpy and six counts of attempted murder in 1992.
Six men identified Carillo of being the man in the passenger seat in a drive-by shooting in the late hours of Jan. 18, 1991
Police made the assumption that it was rival gang violence and pointed the finger at Carillo and his gang.
The main eye-witness claimed that the police had pointed out Carillo, making him the prime suspect thus swaying their testimonies in court.
Carillo was later exonerated of the crimes March 14, 2011, because all of the eyewitnesses admitted they didn't see Carillo in the vehicle
Episode six tells the story of Haynesworth. He was wrongfully convicted of multiple counts of rape in 1984. Five white women were raped at knifepoint and Haynesworth was identified as the assailant by one of the victims as he was walking to the store.
After his conviction, the rapes continued following the same demographic which cast doubt on Haynesworth's conviction. On Dec. 19, 1984, Leon Davis was arrested and the attacks stopped.
Davis was sentenced to multiple life sentences but no one investigated the attacks Haynesworth was convicted of to see if Davis had committed them as well.
DNA was tested from Haynesworth's case which pointed toward Davis as the attacker. This lead to Haynesworth's full exoneration Dec. 6, 2011.
Episode seven tells the story of Hollman, who was convicted of the robbery and murder of Tae Jung Ho May 4, 1993. He was driving around in a vehicle that matched the killer's getaway vehicle even though he was with friends and was visiting from out of state.
The people who testified against him in court recanted their statement claiming that the police had threatened to charge them with a crime and refused to let them have a lawyer present.
When the files were turned over to the Innocence Project, there were records that showed that his trial was compromised by a testimony from a person with a criminal record, which should have impeached him as a witness.
It also showed that there was an anonymous call from someone claiming the killer was Denise Combs, who had a matching vehicle like the assailant.
Hollman was exonerated July 30, 2019, because of new evidence that placed him away from the crime scene.
Episode eight tells the story of Brown, a man who was convicted of a robbery and the murder of a store clerk. He was sentenced to death in 2005.
Many people testified against Brown, stating that he was heavily involved in the robbery that led to the murder.
One of the witnesses later recanted their statement, claiming that she was threatened by prosecutors and the grand jurors.
Brown was released June 9, 2015, based on the lack of evidence to convict and the faulty eyewitness statements.
Episode nine tells the story of Wyniemko, a man convicted of criminal sexual conduct, breaking and entering, and armed robbery Nov. 9, 1994, in Clinton, Mich.
Wyniemko was held on an unrelated misdemeanor and apparently matched the description of the attacker. Because of this, he was put into a lineup and identified as the perpetrator.
There was trace DNA evidence of the victim's underwear which was never tested.
In June 2003, the DNA from the scene was tested, clearing Wyniemko of the crime and was exonerated June 17, 2003.
Rotten Tomatoes gives the miniseries a 100-percent score and IMDb gives it an 8.1 out of 10.
About the Writer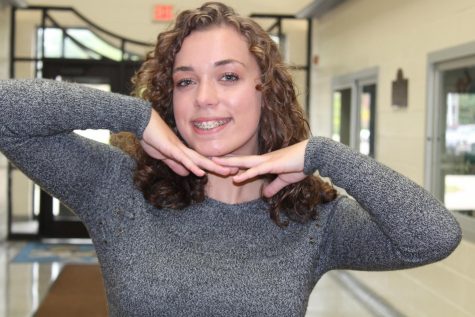 Mackenzie Atkinson, Editor in Chief
Class: Senior

Hobbies: Taking pictures of landscapes and sports

Future Plans: I plan to move to the Carolinas and go to college for journalism.

Favorite...