An open letter to my angel in heaven: Thank you grandma, for making me who I am
Dear Grandma,
It's been over two years since I have been able to hear your voice, since I have seen your warm, inviting smile. since I have been able to feel the amazing aura that surrounded you next to me.
I am still in denial to this day of your passing and I think about you constantly.
You were my best friend. I told you everything, I confided all of my life's troubles into you, and you never told a soul.
When I cried you were always there to wipe my tears, to tell me that everything was going to be all right, and that I should keep praying for things to change.
Whenever you spoke, it was always something intelligent and you taught me things that nobody else could since you went through and experienced so much.
You always made sure that we had what we needed — even if you didn't have it.
You put your grandchildren before your own health and I am so sorry if I made you feel unappreciated.
I thought I knew how much your life and presence meant to me but I didn't actually understand until you were gone.
It didn't matter the task, Grandma, you always were OK to do it for me.
I know you cried at night because of the pain and I am so sorry. I never expected you to leave us. I felt as if you would be here forever, even though in reality you knew it was almost your time to go.
When you left us to all to proceed on your journey into heaven, my heart broke into a million pieces. You were the glue that held our family together and so much has changed since you have been gone.
I haven't been truly happy since you have been gone.
It's like there is a gray hue over my eyes whenever I see things. Life has not been as vibrant as it was when I was with you.
You gave me purpose. You always made me feel like I mattered and I am so grateful for that.
I have never met — and I probably will never meet —  someone as selfless, caring, and loving as you were and I am honestly so blessed to have met someone with a spirit like yours.
I wish that I could have known that my days left with you were limited. I would have taken advantage of every minute that I had left with you.
You passing really put in to perspective what it means to not realize what you have until it is gone.
Thanks to you I've learned to appreciate life, to be grateful for the time that I haven been given to roam this Earth.
Everywhere I go I am reminded of you. Songs that we used to sing and dance to together, food that we made together. The memories are endless when I think of you.
I remember how you used to allow my sister and I to waste food supplies in the house to make fake food dishes that would only go down the drain.
You fueled our creativity and embraced our inner selves.
We could sit for hours and just watch the Disney Channel. You used to love watching "The Suite Life of Zack & Cody."
Whenever London Tipton (Brenda Song) would say something stupid or whenever we watched "Good Luck Charlie" and the mom would do something, we would always laugh until tears were coming out of our eyes.
You were always silly and goofy and enjoyed having a great time with your "Onna and Doffa."
You would go to extreme measures to make sure that my sister and I were safe from harm, making sure that we knew what to do in possible extreme situations.
You always told us you'd fight and die for us if we had even the slightest chance of making it out of the situation.
Your heart was pure gold and I cannot even explain in words how much of my life you made up.
Thinking about you and what we did, Grandma, brings aches to my heart.
You were the most amazing woman and you were truly heaven sent.
Without you, I am not sure how I would have ended up.
I would give anything to have ensured that Ray'mon could have grown up with you as well. I will make sure that Ray'mon remembers you and that your memory will stay instilled in our minds.
Thank you, Grandma for all that you have done for me and for the long-lasting imprint that you will leave on me forever.
Love, Raydoffa.
About the Writer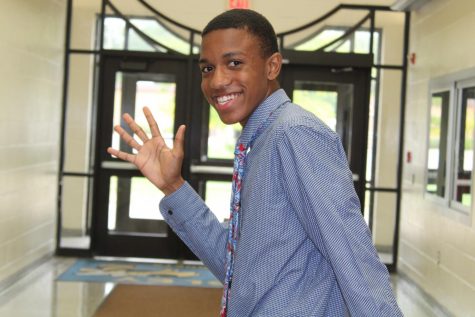 Raydoffa Braziel, A&E Editor
Class: Senior

Hobbies: Running, singing, and playing video games.

Future Plans: I plan to go to the University of Michigan in Ann Arbor to study...