'Joker' leaves audiences smiling
The newest movie in the DC universe, "Joker," released in theaters Friday, Oct. 4.
Senior Jon Conway didn't expect the film to be so dark.
"I cried," Conway said. "I didn't know it was going to be so dark and I don't like dark films."
Despite the movie's darkness, Conway wouldn't change anything.
"It was a great film," Conway said, "it just made me cry. It was unexpected."
"Joker" gives the must needed origin story of Batman's archnemesis.
The story introduced Arthur Fleck, also known as the Joker.
The character, played by Joaquin Phoenix, suffers from a mental illness and a hard childhood.
We meet the Joker as he talks to his social worker, whom he sees every week since he left Arkham Asylum.
Viewers expected to see the Joker face some type of hero but he never did.
Fleck's mental illness served as the story's antagonist.
Along with the his other disorders, Pseudobulbar affect plagues the Joker with uncontrollable laughter.
The Joker begins a career in stand-up comedy to get his mind off of all the evil he sees in Gotham.
Then Fleck falls in love — or so he thinks.
Fleck meets a female resident (Zazie Beetz) of the apartment complex where he and his mother live.
Their relationship grows over time as the Joker faces many challenges.
But the Joker realizes she hasn't been with him through any of the story — his mind made up the experiences.
The Joker snaps and causes havoc in Gotham, leading an uprising of the poor in the city.
IMDb rated "Joker" nine out of 10 stars. Rotten Tomatoes gave "Joker" a 68 percent.
I believe it deserves a nine out of 10 because the film shows the Joker's origins and gives solid context for his future actions.
Senior Cole Zemore loved everything about "Joker," especially Phoenix's performance.
"The acting was so good," Zemore said. "The laugh sounded like it hurt, the gasping for air at the end."
Zemore appreciated the film's contribution to the DC Universe.
"It shows character development and why he would do some things," Zemore said. "It gives a real world feel, which is creepy and cool."
DC universe fans will want to check out "Joker."
Leave a Comment
About the Contributor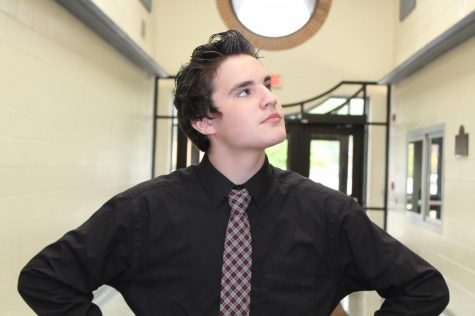 Jonathen Hart, Managing Editor
Class: Junior

Hobbies: Studying law and politics

Future Plans: I plan to become President of the United States of America.

Favorite Book: "Barack...