Ocean tells a story of love, loneliness
When one mentions soul music, you'd normally think of Marvin Gaye, James Brown, and Stevie Wonder.
But one recent standout soul artist is Frank Ocean.
Ocean entered the world as Christopher Edwin Breaux in October 1987.
He derived his name from the combination of famous jazz artist Frank Sinatra and 2001's hit film "Ocean's Eleven."
Ocean enrolled at the University of New Orleans to study music, but damage from Hurricane Katrina forced him to move.
In the early years of his career, he was a ghostwriter for famous artists such as Justin Bieber, Beyoncé, and John Legend.
Upon moving from the Big Easy, he met up with Tyler, the Creator and his rap collective "Odd Future" in 2009.
Ocean would released his first solo music project, "Nostalgia, ULTRA," in 2011, sampling artists such as the Eagles, MGMT, and Coldplay.
Ocean would receive wide acclaim for the project with an average score of 7.8 from Pitchfork.
A year later, Ocean released his first studio album, "Channel Orange."
Being regarded as his best album, tracks like "Forrest Gump," "Pyramids," and "Pink Matter" convey a nostalgic feeling with hints of loneliness, love, and an overall soothing tone.
Sophomore Zack Reese connects with the track "Forrest Gump."
"It's a very chill track," Reese said. "I like how he compares his love to Forrest Gump and how he's always running on his mind."
Love and loneliness are no stranger to Ocean.
Ocean battled his sexuality and wrote songs that conveyed the bisexual lifestyle he wished he could live.
Recounting an experience when he was a teenager about how he developed feelings for a boy, he would write the song "Self Control."
With songs like "Pink + White" and "Ivy," Frank portrays his inner desire for love.
The album "Blonde" was considered a milestone for Frank, with guest artists like Beyoncé, Tyler, the Creator, and James Blake.
Sophomore Allison Robbins felt "Blonde" had a calming, loving feeling.
"The vocals and the background are very soothing and relax me," Robbins said.
After Ocean released "Blonde," he decided to release two singles before a three-year hiatus.
Ocean released the auto-tuned ballad "Provider," singing about his desire to provide someone with the love and emotion they need.
He also embraced the Valentine's Day aesthetic by releasing a cover of Aretha Franklin's "Moon River" in 2018.
Ocean created a visual magazine series called "Boys Don't Cry" after the release of "Blonde."
YouTube Channel PUSH PRODUCT praises Ocean's musical feats.
"Frank Ocean lives up to his name," PUSH PRODUCT said. "Webster's Dictionary's definition of frank is 'honest and direct in speech and writing.' The ocean is deep and encompassing, a giver and taker of life."
The featured image is from flickr.
About the Contributor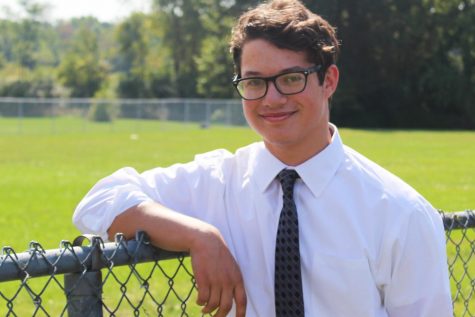 Matt Ostrander, Reporter

Birthday: March 14, 2002
Hobbies/Interests: Drawing, and playing guitar, ukulele, and piano.
Favorite Quote: "No I can't marry you, I have...