Thank a teacher during Teacher Appreciation Week
Hang on for a minute...we're trying to find some more stories you might like.
Teachers are the stepping stones for children to grow and prepare themselves for a successful future.
National Teachers Day was Tuesday, May 7, while Teacher Appreciation Week ends Friday, May 10. The week allows everyone who has been impacted by a teacher to say thank you.
Teachers are giving people in everything they do.
Teachers often do more than teach a class. They motivate and support their students.
Mr. Andy Nester, political science teacher, has been teaching for 27 years, 25 of which have been at KHS.
Nester was inspired by his past educators and coaches to enter the field of education.
"I decided in college that many of my greatest inspirations were the great teachers and coaches I was fortunate to have experienced," Nester said. "I wanted to follow in their footsteps."
"
Teachers are grateful for the opportunities where we are celebrated. "
— Mr. Andy Nester, political science teacher
Nester said he does not do his job for the acknowledgement but rather to partake in the betterment of students.
"Teachers are grateful for the opportunities where we are celebrated. We are not in this career for recognition," Nester said. "Our dedication and service is rewarded by the relationships we make with students, faculty, and our community. It is a privilege to be a teacher, and from my perspective, I am grateful for the time I have spent at Kearsley."
Nester said he expects the future of teaching to be successful.
"Having taught courses at the University of Michigan-Flint in teacher preparation, I know there are plenty of college students who are qualified, motivated, and ready to take on the challenges of today's learner," Nester said. "Be the change you wish to see in your classroom and you will do fine."
Everyday, teachers are educating our future doctors, firefighters, lawyers, and even our future teachers.
Mrs. Amy Graham, health teacher, who has been teaching for 25 years, was inspired by many to become a teacher, especially her middle school teacher, Ms. Wendy Avram.
"While I was in school, I had several teachers who influenced me in a positive way," Graham said.  "One middle school teacher in particular, Ms. Wendy Avram, would let me teach her class. The moment you see the light bulb go on for a student, you get hooked."
Mrs. Caitlin Manson, Spanish teacher, has been teaching for six years and feels that appreciation can come in many ways.
"I think it is nice to be appreciated," Manson said.  "I don't think there needs to be some grand gesture to thank a teacher. But little things like not making me repeat directions a zillion times and asking good questions, just being polite and making a day pleasant can help teachers and demonstrate gratitude.
"Even though it might not seem like it, I do think society is doing better at least acknowledging educators and the impact they have on people."
Teachers also have the power to inspire students to become educators.
Senior Cheyenne Harris would like to become a teacher to help students who may struggle in school.
"I would like to become a teacher so that I can help students," Harris said.
When thanking a teacher, it can be a big or small gesture.
Student Council is hosting an event where students can write notes to their teachers to thank them. The event is taking place in the lunch room for all three lunch periods and will continue through Friday, May 10.
Chloe Clarambeau, Student Council president, said that this is an event to show teachers the gratitude they deserve.
"I think that teaching is an incredibly difficult job and that teachers don't get the credit they deserve, which is why we came up with this idea," Clarambeau said. "It's a simple way to show the teachers that we care and that we recognize their hard work. The goal is just to make their day a little bit brighter when they receive the notes."

About the Contributor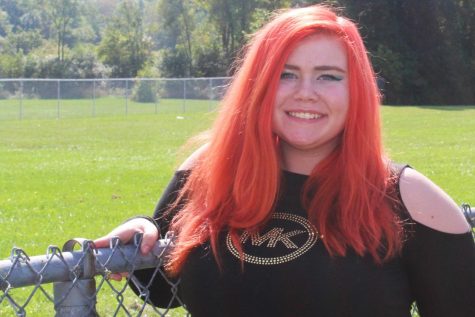 Elizabeth Ashley, Reporter
Birthday: January 3, 2001

Hobbies/Interests: Photography, writing poems, makeup, cheer, drawing, painting, and interior designing.

Favorite Quote: "I...