Students will use birth certificates more than they think
Hang on for a minute...we're trying to find some more stories you might like.
Senior Macie Godfrey never thought she would need to use her birth certificate.
But she learned that she needed it in order to drive and work.
"I used my birth certificate to get my license, and I also had to use it when I got my job," Godfrey said. "I was pretty surprised that I had to use it to get my license. I didn't think that I would use it as much as I do."
Birth certificates have not always been as widespread as they are today.
In the past, birth records were documented in church records, not by the government.
In 1962, Virginia's General Assembly passed a law that required all ministers to keep track of births, marriages, and burials, but the practice died fast because it was advanced to the church officials.
In addition, many women birthed at home or in friends' houses, which made it difficult for states to keep track of how many children were being born.
But 195 years ago, Georgia became the first state to pass a birth registration law. This law stated that county clerks were required to record all Georgian births into a book.
This registration system was adopted throughout the country until the 1930s.
This process came to be during the height of European immigration.
According to History, 30,000,000 Europeans came into the country and crowded neighborhoods, making resources harder to come by for existing citizens.
The United States Bureau of the Census started to send out "Notification of Birth Registration" forms in different areas of the country and states gradually adopted the standardized birth certificate system.
Today in America, babies are born at a rate of eight per minute. When a mother goes to the hospital for childbirth, they will be given the forms to fill out a birth certificate by the hospital.
Mr. Matt Binko, math teacher, explained the process it took to get a birth certificate for his son.
"My wife got a form in the hospital, and we were able to fill it out while we were there since we had to stay an extra week," Binko said. "We also got another paper to take home and fill out, which my wife took to the courthouse."
Any person who is born in the United States is required to have a birth certificate to show their proof of citizenship. The birth certificate is an important document, as it is used to get a passport or visa.
If someone does not have a birth certificate, that person cannot get a Social Security number, a method the government uses to keep track of a person's lifetime earnings and the number of years worked.
In that case, that person couldn't get a job, obtain a driver's license, register for school, travel, or sign up for any sports.
Depending on the state that a person lives in, the birth certificate information will be sent to the county or the state. Here in Michigan, the information is sent to the state.
Binko said the process to get a birth certificate for his son was more work than he originally thought.
"I thought that you just filled the form out and left the hospital with a birth certificate." Binko said.
The featured image in this story is from flickr.

About the Writer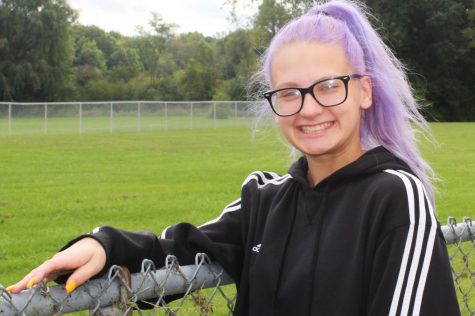 Racheal Cowell, Reporter
Birthday: July 29, 2001

Hobbies/Interests: Running.

Favorite Quote: "Road work ahead? Uh yeah, I sure hope it does." -Drew Gooden

Favorite...