The 1975's 'A Brief Inquiry Into Online Relationships' brings sincerity to music
The 1975 returns to the music scene after an eventful and single-filled summer with their new sound and album, 'A Brief Inquiry Into Online Relationships.'
The indie pop-rock band, led by front man Matty Healy, has been fairly popular in the alternative music scene since 2011, a year that saw the release of their eponymous debut, "The 1975."
Their sophomore album, "I Like It When You Sleep, For You Are So Beautiful Yet So Unaware Of It" saw a more evolved sound, and slightly different look. The album's cover art evolved from their previous gray scale look to a much more vibrant and colorful aesthetic presentation, matching the album.
With the release of their new album, The 1975 brings a matured sound to fruition and presents it with great sincerity and eclecticism.
The album opens with "The 1975," a rendition of a previous song.
In the past, this track has been spacious and energizing, but this rendition contrasts with a more isolated and somber sound.
The album then brings one of the more notable singles released, "Give Yourself A Try."
This track is an energetic and guitar-fueled track with Healy expressing his feelings on maturing and how it has affected not only his perception of the world and society, but himself too.
The next track is yet another single, "TooTimeTooTimeTooTime."
This song features a catchy pop sound with a delightful sounding chorus. Healy satirically sings about infidelity and adultery in modern relationships, illustrating a commentary on how lightly such serious topics can be taken.
The album then delivers the anthem "Love It If We Made It," which has a sound that is reminiscent of the band's "The 1975" era.
With a muted guitar-driven sound and Healy's vocals breaking through to deliver the message "modernity has failed us," the song is deep and meaningful.
All the while, the track delivers a hopeful message in the chorus, with a large contrast lyrically from past projects that results in a wonderful sound and arguably making it the best on the album.
"Be My Mistake" is a melancholic and vulnerable song, using an acoustic guitar to further the somber feeling.
Lyrically, Healy tells a heartfelt story of guilt, youth, and regret.
Next, the band delivers "Sincerity Is Scary," a message that even the title tells.
Overall, the track is calm and doesn't move too much. For fans, the song can remain interesting, but it is possible to see how a casual listener may become slightly bored toward the second part of the track.
In "I Like America & America Likes Me," the sensitive subject of gun violence and gun control in America is covered.
The song also, according to Healy, is an "homage to SoundCloud rap."
The track has a lot of potential but Healy's auto-tuned vocals can become slightly stale around the second chorus.
"The Man Who Married A Robot/Love Theme" is absent of Healy's vocals, rather using his abilities on piano and features drummer George Daniels.
During the first leg, the track can come across as forcefully weepy, but it has a good message. The second leg, "Love Theme" is a truly wonderful and dreamy instrumental.
"It's Not Living (If It's Not With You)" is a delightful sounding piece on the album, with lead guitarist Adam Hann delivering an energizing and pop-like guitar riff. Throughout the track, Healy directly confronts his drug addictions and burdens of the sickness he suffers from.
The track is certainly memorable and another highlight of the album.
"Mine" is a delicate jazz-like ballad featuring a trumpet solo and Healy on keyboard. Healy delivers comforting vocals, conveying a message of love, being in love, and not being predisposed to settling down with a romantic partner.
"I Always Wanna Die (Sometimes)" is the concluding track.
The song is a cinematic end to the album and conveys messages of depression and how most of the modern population lives online. The track closes with a chorus repeating the words "always wanna die, sometimes."
Overall, the album is superb. Healy delivers lyrically and vocally to express his ideals and experiences in life.
From their inception, "The 1975" has been a band that has challenged themselves and, although on some tracks they can fall short, almost always deliver.
'A Brief Inquiry In Online Relationships' is a new era for The 1975 and will undoubtedly be a great one. The album earns a strong nine out of 10, with it's consistency of good songs, and well-executed experimentation, while only becoming boring less than a handful of times.
About the Contributor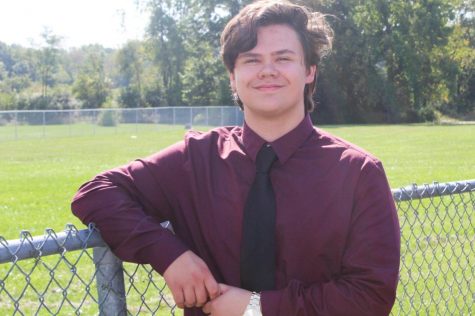 Brennan Ulman, Reporter

Birthday: Feb. 12, 2001
Hobbies/Interests: Playing guitar and listening to music.
Favorite Quote: "The internet made fame wack and anonymity...