Tyler, the Creator delivers a unique rapping style
Music has undeniably seen its fair share of creative minds, but none have the versatility and prowess as award-winning artist Tyler, the Creator.
Tyler Gregory Okonma was born on March 6, 1991, in Ladera Heights, Calif., to a single mother.
In November 2008, Tyler and a few other up-and-coming rappers, including Hodgy, Left Brain, and Cassy Veggies founded the rap collective Odd Future, releasing the mixtape "The Odd Future Tape."
They put out several more albums and labeled their music in the horrorcore genre.
Then Tyler released a music video for the song "Yonkers," which received attention from multiple online outlets and won him Best New Artist of 2011 at the MTV Video Music Awards.
Later, other soon-to-be famous artists would join the collective such as Syd Tha Kid, Frank Ocean, and Earl Sweatshirt.
Aaron Munoz, sophomore, enjoys Tyler's music.
"He has a certain sound," Munoz said, referring to Tyler's unnatural and heavy beats coupled with strong lyrics.
On March 25, 2012, Odd Future acquired their own show "Loiter Squad," which was a live-action, skit-driven show on Cartoon Network's Adult Swim, running until 2014.
Tyler would release his album "Cherry Bomb" on April 13, 2015, receiving mostly positive reviews but being regarded as one of his worst overall.
He played multiple songs off of the album at Coachella, an art and music festival held at the Empire Polo Club in Indio, Calif.
As well as being an award winning artist, Tyler would also dabble in clothing, creating merchandise for the collective "Odd Future."
Tyler soon felt the need to update the style of the clothes, from skateboarder shirts and backpacks, to a more modern hipster look.
He created something new from the old Odd Future brand, simply named "Golf Le Fleur." A brand that was a fusion between hipster and skater fashion. Creating colorful shoes, collared shirts, and various hats.
The brand title was inspired by the name "Golf Wang," a play on the original name of the collective, "Odd Future Wolf Gang Kill Them All."
It releases shoes, colorful collared shirts, and various hats. The brand has made several deals with shoe companies like Converse and Vans.
Tyler's biggest and best album, "Flower Boy," came out on July 21, 2017.
It was a complete change from the hardcore rap and intense beats that he had done with "Goblin" and "Cherry Bomb."
Tyler tried out a new, sweeter tone for his project, trying to refrain from rapping on it too much to instead let the instrumentals speak for themselves.
He featured artists such as Rex Orange County and Kali Uchis on the songs "Boredom" and "See You Again."
Zack Reese, sophomore, believes Tyler has influenced music.
"He's definitely changed music," Reese said. "His beats are heavy, and I think he really paved the way for other artists."
With the release of "The Grinch" this year, Tyler thought it would be fit to not only create the promotional song for the movie, but to make an entire EP based on the film and Christmas titled "Music inspired by Illumination and Dr. Seuss' the Grinch."
Tyler, the Creator has certainly made his mark on media and fashion, and audiences hope to see more from his creative mind in years to come.
According to the article "I was asked To interview Tyler, The Creator, Heres What Happened" The author John Greathouse talks about the way Tyler talked to students.
"In the end, I'm confident Tyler has learned as much as the students," Greatwood said. "At 27, he has an incredible future ahead of him. I hope he continues to connect with young people in similar forums, and I look forward to cheering on his future entrepreneurial pursuits."
Leave a Comment
About the Contributor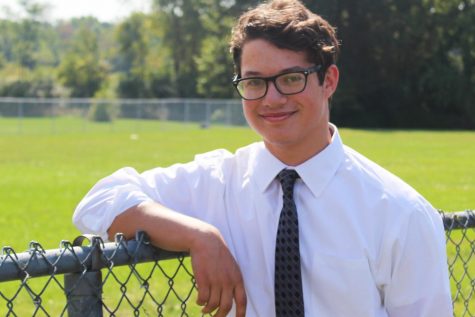 Matt Ostrander, Reporter

Birthday: March 14, 2002
Hobbies/Interests: Drawing, and playing guitar, ukulele, and piano.
Favorite Quote: "No I can't marry you, I have...