Mickey Mouse turned 90 this month
Hang on for a minute...we're trying to find some more stories you might like.
On Nov. 18, 1928, animation icon Mickey Mouse was born in animated shorts "Plane Crazy" and the well-known "Steamboat Willie, which means he turned 90 this month.
Sophomore Jackson Shock finds this to be somewhat surprising.
"It's kind of sad not as much as it is weird," Shock said," because I grew up watching him and knowing he's that old is weird to me."
Mickey Mouse was originally created as a replacement for former animation star Oswald the Lucky Rabbit.
The animated character was first named "Mortimer Mouse," but the name was replaced with "Mickey Mouse" after Walt Disney's wife, Mrs. Lillian Disney, suggested it.
With the release of "Steamboat Willie," a plethora of animated shorts followed. Mickey was then portrayed as a lively mouse in a barn-like house.
In the short film"Karnival Kid," Mickey first said his iconic tagline, "hot dog."
Mickey Mouse was given his trademark gloves in the short film "The Opry House," making a new equine friend in Horace Horsecollar.
Mickey's influences are evident in other media, such as the big gloves seen on other famous characters, including Bugs Bunny, Goofy, and the Animaniacs.
On Nov. 13, 1940, Mickey Mouse was portrayed in his most famous role in the masterpiece "Fantasia."
"
That surprises me (that Mickey Mouse is 90). I love that he's still entertaining new generations."
— Mrs. Cindy Sierra, English teacher
Bringing both classical music and animation together, the piece shows Mickey being portrayed as a wizard's apprentice and getting his magical hat, causing all sorts of mischief around the castle.
Mrs. Cindy Sierra, English teacher, is shocked by how old Mickey truly is.
"That surprises me," Sierra said. "I love that he's still entertaining new generations."
A major part of Mickey's on-screen persona is his voice.
In 1928, Disney himself was the voice of Mickey, until he became too busy and passed the torch to veteran voice actor Jimmy McDonald.
In the world of politics, Mickey Mouse is the most popular write-in candidate at the voting booth, being voted for in every presidential race since 1932.
Actor Mickey Rooney claims to be the inspiration for Mickey Mouse's name, though most reports do not corroborate this.
Mickey Mouse was the first cartoon character to earn a star on the Hollywood Walk of Fame.
As Walt Disney once said, "When people laugh at Mickey, it's because he's so human, and that's the secret to his popularity."

About the Writer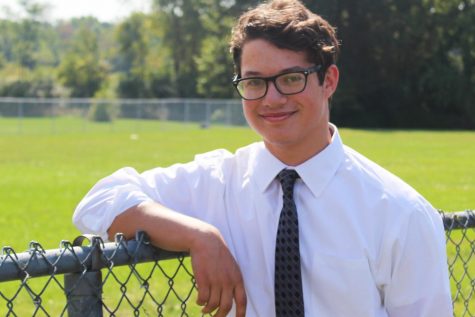 Matt Ostrander, Reporter

Birthday: March 14, 2002
Hobbies/Interests: Drawing, and playing guitar, ukulele, and piano.
Favorite Quote: "No I can't marry you, I have...