Greta Van Fleet's 'Anthem of the Peaceful Army' is stale
Michigan band Greta Van Fleet is one of the most talked about rock bands in the business.
Made up of vocalist Josh Kiszka, guitarist Jake Kiszka, bassist Sam Kiszka, and drummer Danny Wagner, the band has released two EPs since they formed in 2012.
The band's album, "Anthem of the Peaceful Army," was released Oct. 19 and quickly went to No. 3 on the Billboard Top 200 chart.
Greta Van Fleet has gotten criticism for being unoriginal since its sound draws on classic rock clichés, especially those of Led Zeppelin.
"When The Curtain Falls," the album's lead single, is generic and meant to appeal to baby boomers who are feeling nostalgic.
The lyrics throughout the album are, at best, pandering and, at worst, baffling.
In the song "Brave New World," Kiszka sings, "Turn back the clock within your glass of sand—To a time of love within this blackened land—A silent child climbs a mound of char—Where he plants a seed that grows beyond the stars."
I find these lines to be synthetic and shoddy.
The music the band is playing is acceptable, but Danny Wagner is no John Bonham and Jake Kiszka is no Jimmy Page.
Josh Kiszka sounds like Robert Plant with a head cold.
It may seem unfair to constantly compare Greta Van Fleet to Led Zeppelin, but with the effort Greta Van Fleet has put into sounding exactly like Led Zeppelin, I don't have any qualms about it. Greta Van Fleet and Led Zeppelin are inextricable.
Some young people can appreciate Greta Van Fleet. Cole Zemore, junior, likes the band.
"I like classic rock, and they sound sort of retro," Zemore said. "Reviews can be unfair to Greta Van Fleet just because the band doesn't fit into the critic's personal taste."
For me, it's hard to talk about Greta Van Fleet. They're a boring band, and I have a strong suspicion that they won't be around in a few years.
Greta Van Fleet is interpolating the classic rock sound and trying to give it to a new generation, but it butchered it in the process.
I give the album two out of 10 stars because it is unoriginal. The band is trying to punch above its weight, and it's only appealing to uneducated consumers.
The question is, then, is Greta Van Fleet self-aware enough to emulate Led Zeppelin by portraying their worst qualities along with their best?
I doubt it.
About the Contributor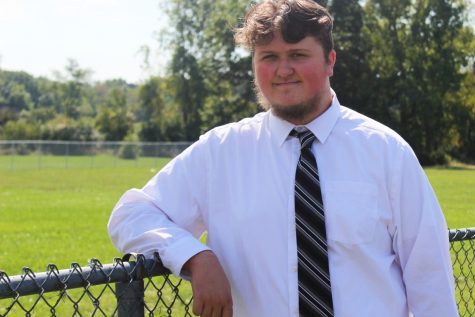 Grant Sterling, Reporter

Birthday: July 13, 2002
Hobbies/Interest: Music, film, books.
Favorite Quote: "Pictures must not be too picturesque." - Ralph Waldo Emerson
...