'Hopeless Fountain Kingdom' exceeds expectations
Hang on for a minute...we're trying to find some more stories you might like.
I waited for this release for a long time and, already being a fan of Halsey, I had high expectations for her album.
"Hopeless Fountain Kingdom" was released in June 2017.
The album peaked at the No. 1 spot on the Billboard Top 100.
This album has an alternative-pop style and most of the songs have a message about breakups or bad relationships.
The most popular songs on the album are "Bad at Love" and "Now or Never."
"Bad at Love" is a bunch of short stories about past lovers.
Halsey sings, "I always make the same mistakes."
She feels like all her bad relationships are her fault.
Halsey sings, "You know I'm bad at love, but you can't blame me for trying, you know I'd be lying saying you're the one."
"Now or Never" is a more lighthearted song but still has a message for her lover.
"I don't wanna fight right now, I know you're always right," Halsey sings.
She also talks about the hardships of her current relationship.
Halsey sings, "Been through the ups, yea the ups and the downs with me."
She talks about all the things she has done for this person, letting them know that they need to love her "Now or Never."
My favorite song on this album is "Eyes Closed."
It's one of the slower songs on the album and has the sad feeling that many of her other songs have.
Halsey sings about how her new partner reminds her of her ex, whom she misses.
"If I keep my eyes closed he looks just like you," she sings in a sad tone. "If I keep my eyes closed he feels just like you, but you've been replaced, I'm face to face with someone new."
Another song I enjoyed was "Strangers," which features Lauren Jauregui.
This song is about two girls that realize they don't actually love each other and that their partner only wants them for their body.
"She said that we're not lovers, we're just strangers with the same … hunger to be touched, to be loved, to feel anything at all," Halsey sings.
You can feel the emotion in their words.
Halsey sings, "She doesn't call me on the phone anymore, she's never listening, she says it's innocent — She doesn't let me have control anymore, I must have crossed a line, I must have lost my mind."
This song has a soothing and ironically happy beat.
I enjoy the way the two girls' voices sound together. They both have more deep, raspy voices for women. I think this sounds really good with the style of music Halsey creates.
I enjoyed this entire album. It's a good mix of fast and slow songs, but the overall alternative feel to the album goes very well with the meanings of the songs.

About the Writer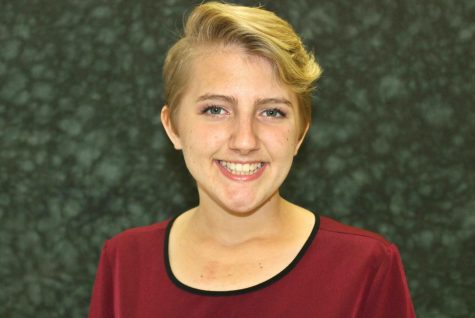 Emily Rose, Reporter/Social Director

Birthday: September 12, 2000
Extracurricular activities: Theater
Hobbies: Painting, theater, and making memes.
Plans after high school: College
...