'Black Panther' has flaws but is enjoyable
Hang on for a minute...we're trying to find some more stories you might like.
One of the most anticipated movies of the year, "Black Panther" has been at the center of a cultural phenomenon.
The hype around the film has nearly eclipsed actual judgment of the film's quality.
When one review took the Rotten Tomatoes score from a 100 percent to a 99 percent, people were outraged despite having not seen the film.
"Black Panther" stars Chadwick Boseman as the title hero and Michael B. Jordan as his rival Erik Killmonger.
It was directed by Ryan Coogler, who has previously directed "Creed" and "Fruitvale Station."
After seeing the film, I would say it is one of the better recent Marvel movies, but it still has flaws.
Like most Marvel films, it is dull in places. The two-hour, 14-minute run time can be wearisome at times.
Also, many of the characters are undeveloped.
Daniel Kaluuya's character has dialogue in essentially two scenes: one where he talks about how the villain killed his parents and a second where he joins the villain's side. It doesn't make much sense.
The action is mostly unengaging. Most of the action scenes end in a dispiriting anti-climax.
As for positives, Michael B. Jordan's character is one of Marvel's most fleshed out antagonists. He is funny and relatable while also being cold-hearted and abhorrent.
Even the secondary villain played by Andy Serkis is great. Serkis' performance is pure madness and fun to watch.
The female characters in the film express individuality and skill. Danai Gurira, Lupita Nyong'o, and Letitia Wright are all highlights.
While I did not feel that the movie wasted my time, it has not risen above the normal Marvel schlock.
The online news outlets Vox and /FILM, along with director Christopher Nolan, are even talking about the movie's chances for a Best Picture nomination in the 2019 Academy Awards.
I believe that the film is undeserving of this honor.
As for freshman Matt Ostrander, however, he loved the film.
"The casting was great," Ostrander said. "Chadwick Boseman was a great Black Panther, and the villain was sympathetic."
I would give the film a seven out of 10 stars.
Despite my issues with the film, I would hate to take away from another person's enjoyment of it. This movie means a great deal to millions of people.
The film signifies a change toward minorities finally having heroes they can root for on the big screen.

About the Writer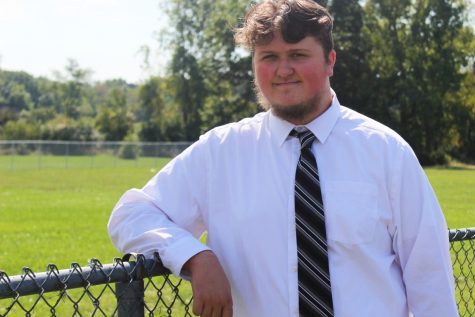 Grant Sterling, Reporter

Birthday: July 13, 2002
Hobbies/Interest: Music, film, books.
Favorite Quote: "Pictures must not be too picturesque." - Ralph Waldo Emerson
...