Car Seat Headrest's 'Twin Fantasy' satisfies
Indie-rock band Car Seat Headrest started as a solo project by Will Toledo in 2010.
Known for the lo-fi quality of the recordings and sensitive lyricism, the music became popular on the streaming service Bandcamp.
Their second studio-recorded project, "Teens of Denial," was released in 2016.
It was one of the most critically-acclaimed rock albums of 2016, with Rolling Stone magazine naming it the fourth best album of the year.
With a huge expectation for the next project, and a full band behind him, Toledo decided to record one of his Bandcamp albums again, "Twin Fantasy," released in 2011.
This revamped recording was released Friday, Feb. 16.
The lead single from the album was "Beach Life-in-Death," a 13-minute song that doesn't become tedious at any point.
The tempo is fast, the guitars are hard-hitting, and the lyrics are relatable.
The best song on the album is "Nervous Young Inhumans."
It presents a contrast between the soft-spoken verses and the synthesizer-laden melancholy of the chorus.
The lyricism is great on the track "Bodys."
Toledo laments about fragility and youth perfectly with the line, "Don't you realize our bodies could fall apart any second?"
The band's influences, such as The Cars, Radiohead, and The Who, are on their sleeve with this track.
There are traces of classic rock throughout "Twin Fantasy," from the guitar intros in "Sober to Death" and "Famous Prophets (Stars)," to the triumphant chorus of "Cute Thing."
There are also examples of art-rock on the album, like the found-vocal outro of "High to Death" and the spoken-word philosophical ramblings at the end of "Nervous Young Inhumans."
Another example is the fact that there are only two songs on the album under five minutes, and two songs over 10 minutes.
The closing track, "Twin Fantasy (Those Boys)," is a vast, ethereal, piano-driven song, with layered harmonies adding to its intangible nature.
Comparing this version of the album to the original, it solves a problem stemming from Toledo's soft-spoken nature.
The low quality of the recording made it almost impossible to hear what he was saying. With this new-found studio quality, the poetry in Toledo's word can finally be heard.
All in all, I would give "Twin Fantasy" an eight out of ten.
It is not quite as good as 2016's "Teens of Denial," but I am not disappointed.
This album is a great addition to Car Seat Headrest's discography. I am always happy to see Will Toledo try to fulfill his visions, and I think he pulled this one off with flying colors.
Leave a Comment
About the Contributor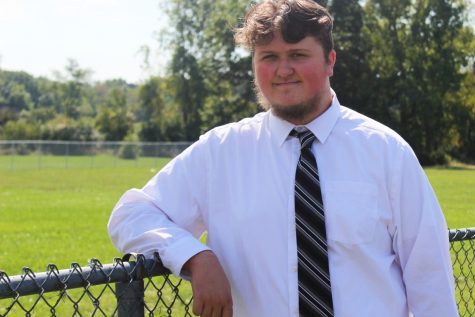 Grant Sterling, Reporter

Birthday: July 13, 2002
Hobbies/Interest: Music, film, books.
Favorite Quote: "Pictures must not be too picturesque." - Ralph Waldo Emerson
...