March is Reading Month: Biographies tell the stories of us
Hang on for a minute...we're trying to find some more stories you might like.
Biographies are a look into someone's life. Whether they be inspirational, relatable, or have interesting narrators, biographies make for a good read.
Biographies can show that people can have similar situations, and that success is earned through hard work.
The stories can also help people get through struggles in their lives.
When you are sick or bored, you can crack open a biography and escape your situation.
Biographies can also be helpful in life.
You can reference information in debates and arguments.
Interesting stories can also keep readers entertained.
"Diary of a Young Girl" by Anne Frank
Anne Frank was a teenage victim of the Holocaust, dying in Bergen-Belsen concentration camp.
Her diary, written while she hid from the Nazis in Amsterdam, provides an in-depth view of what it was like for Jewish people to live in Nazi-controlled Europe.
The book follows the events of her hiding, as well as her personal opinions about life and various other topics.
After two years, Frank and her family were captured and split up.
Frank's father Otto was the only survivor.
Freshman Alex Lechota enjoyed "Diary of a Young Girl" because of the view it gave on world events.
"I enjoyed this book because it provides a new viewpoint of World War II — one from the eyes of a young Jewish girl," Lechota said.
Lechota recommends the book to others because of its uniqueness.
"It gives an inside view of what World War II was like, not being able to fight the Germans, and living under their rule," Lechota said. "Anne also weaves in the problems of being a teenager along with living in a heavily-controlled German city."
"My Brief History" by Stephen Hawking
The late scientist Stephen Hawking will go down as one of the greatest scientists in history.
Hawking grew up in London and St. Albans, England.
The book follows his early life, as well as his diagnosis with ALS, known as Lou Gehrig's disease, at the age of 21.
He was inspired to rigorously pursue his studies by his diagnosis.
Hawking was confined to a wheelchair in 1969 and lost his speech in 1985.
He began using his iconic speaking software soon afterward.
While he died on March 14, Hawking will live on in the memories of countless science lovers.
Sophomore Maddie Alpin enjoyed "My Brief History" for the view it gave of Hawking's life.
"He is my favorite scientist," Alpin said. "He inspired me to want to work for NASA in the future."
Alpin found Hawking's perseverance interesting.
"The fact that he kept going with what he loved despite his struggles (is interesting)," Alpin said. "He has a good sense of humor."
The autobiography's unique stories are a reason why Alpin would recommend the book to others.
"There's a lot of interesting stories," Alpin said. "You get to see a different side of him."
Other biographies:
"Steve Jobs" by Walter Isaacson
"Unbroken: A World War II Story of Survival, Resilience, and Redemption" by Laura Hillenbrand
"I Am Malala" by Malala Yousafzai
"Long Walk to Freedom" by Nelson Mandela
"I Know Why the Caged Bird Sings" by Maya Angelou
About the Contributors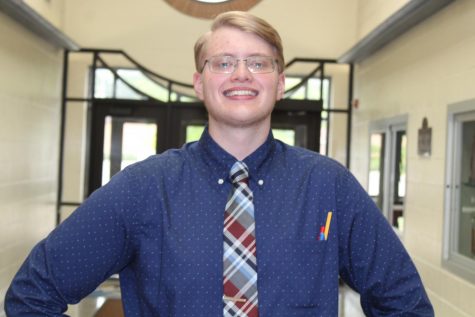 Connor Earegood, Editor in Chief
Class: Senior

Hobbies: I participate in quiz bowl, chess, robotics, Future Problem Solving, and many other "nerd sports."

Future Plans: I plan to...