'Die Hard' is a Christmas movie
Hang on for a minute...we're trying to find some more stories you might like.
Caution, spoilers are in this story.
While not considered a traditional Christmas movie, "Die Hard" has gained a reputation as a holiday film.
Personally, I believe it is a holiday classic even though some people believe the movie is solely an action film.
The film is about detective John McClane (Bruce Willis), who travels to Los Angeles for the holidays.
His goal is to reconcile with his estranged wife, Holly, who traveled to Los Angeles to pursue her career.
His wife's employer, Nakatomi Corporation, holds their office Christmas party and McClane attends to talk to his wife.
His plans are interrupted when terrorists storm the party, led by Hans Gruber (Alan Rickman).
McClane is forced to run barefoot through the building, which is under construction, to flee from the terrorists.
Armed with only his Beretta and his sharp wits, McClane fights the terrorists and tries to rescue the hostages.
The film ends with Gruber holding Holly hostage, forcing McClane to drop his weapons.
But the New York City detective won't let Gruber off the hook so easy.
He pulls his pistol, which was attached to his back with Christmas-themed tape, and shoots Gruber and his henchman, saving Holly.
While this is a classic action movie, it has many traits that make it a Christmas film.
The office party is held for Christmas, and McClane makes references to the holiday throughout.
Take the scene where his driver Argyle is asked to play Christmas music by McClane.
Argyle plays a hip-hop Christmas mix, and says, "This IS Christmas music."
Also, McClane constructs a Christmas tape holster to hold his gun, a direct reference to the holiday by the film's creators.
One of the film's most iconic scenes involves McClane writing a note on a body.
When Gruber and his henchman find the body, the note says, "Now I have a machine gun. Ho ho ho."
Even Google lists "Die Hard" as a Christmas movie.
The movie's themes of family and greed also tie in to the holiday.
McClane is trying to reunite with his wife and children for Christmas.
He risks his life to save his wife and her coworkers.
Greed is showcased by Gruber's lust for Nakatomi's money.
It ends up costing him, as he does not make it out alive.
The film is also played by many television networks during the holiday season.
No matter its relation to Christmas, "Die Hard" is a great action film.
About the Contributor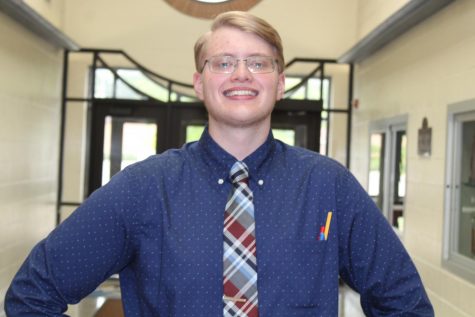 Connor Earegood, Editor in Chief
Class: Senior

Hobbies: I participate in quiz bowl, chess, robotics, Future Problem Solving, and many other "nerd sports."

Future Plans: I plan to...