Junior Krista Staley faces world with positive attitude
Hang on for a minute...we're trying to find some more stories you might like.
Junior Krista Staley stands out in the hallways of KHS with her beauty, kind demeanor, and determined attitude.
Staley's benevolence is hard to miss, just a smile from her while passing in the hallway undeniably depicts her glowing personality.
Staley was on homecoming court this year and was touched by the unexpected votes of her peers.
"Homecoming court was a total surprise. I was not expecting it at all," Staley said. "It was one of the best days of my life to spend with my parents, friends, and all the other girls on court."
Staley went on to explain the emotional impact of being on court.
"Being in the parade, waving to tons of people, and watching all the little kids get excited definitely warmed my heart," Staley said. "And I loved seeing all the other girls on court feel good about themselves in their poofy dresses."
Staley is thankful for her parents and grateful she gets to spend these important moments with them.
"Being able to share the bittersweet moments with my parents is what really made it (homecoming court) best, though," Staley said. "I never really get to see my father due to his busy career and always being out of state, but homecoming court day he was able to be here. If it wasn't for them, I wouldn't be the girl I am today and maybe not have even gotten to experience that amazing day."
Staley's parents, Mr. Dirk Staley and Mrs. Kristy Staley, are proud of their daughter.
"She doesn't need much to be happy. It's just the person she is," Mr. Staley said. "She's happy with the simplest gestures. She's not like most kids and knows how hard things can be."
"
I obviously can't call her an angel, but that's pretty much what she is. She is beautiful inside and out and is always using her light to uplift others."
— Mrs. Kristy Staley
Mrs. Staley praised her daughter on her thoughtfulness and uplifting charisma.
"I obviously can't call her an angel, but that's pretty much what she is," Mrs. Staley said. "She is beautiful inside and out and is always using her light to uplift others."
When asked about her past, Staley said she and her family have gone through some of the worst scenarios but believes each difficulty has made them stronger.
"Throughout my life I've experienced many traumatic and devastating things starting at such a young age," Staley said. "Growing up I had to see many crazy things and go through some heart-wrenching events that were uncalled for."
While wanting to keep these events private, Staley said these experiences have made her stronger and helped her grow.
"My family is very loving, but they always get the worst of everything," Staley said. "I had to see them go through everything they did and watch it hurt them. Although these things I am speaking of were utterly terrible, I'm thankful for those events because they shaped me into the person I am today."
Junior Chyna Burton, Staley's best friend, is thankful for such a strong bond and the kindness Staley shows her.
"Krista is someone I have always been able to count on," Burton said. "She's more than just a friend to me. She's family. We grew up together. We've been through many ups and downs, but that doesn't change anything. I love Krista more than words could explain."
Outside of KHS, Staley makes time to volunteer at Carriage Town Missions, a homeless shelter in downtown Flint.
"I absolutely love working there," Staley said. "I serve dinner to the homeless, babysit, and play with the homeless children, donate things they need, and help out at the events we hold for them."
Some of the events held at the homeless shelter include holiday events, back-to-school events for the children, gardening events in the summer, and church services every Sunday.
Staley is grateful she is able to help these people in every way she can.
"These individuals do not have much positivity and sunshine in their lives, so my main goal every time that I go is to put smiles on their faces and give them hope," Staley said.
Staley also expresses herself through writing, including poetry. The poems continue to show her positive take on her life and each new thing she encounters, no matter how difficult the feat may seem.
"I write because it is very therapeutic for me," Staley said. "I'm usually not good with words during conversation, but when I write it's completely different."
"
Spreading love to others is the best way to feel better about yourself."
— Krista Staley, junior
Staley uses her past to ensure a bright future. She takes her misfortune and instead of being angry about it, she learns and grows from it.
"Adversity can make people stronger and improve people. It doesn't always have to make them bitter," Staley said. "Instead of using my past to hurt others, I'd rather protect them from potentially hurting too. Spreading love to others is the best way to feel better about yourself."
About the Contributors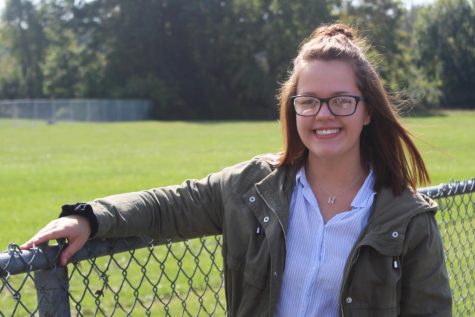 Jenna Robinson, Editor in Chief

Birthday: Oct. 26, 2000
Hobbies/Interest: Playing electric, acoustic, and bass guitar, as well as ukulele. I also enjoy drawing, reading, writing,...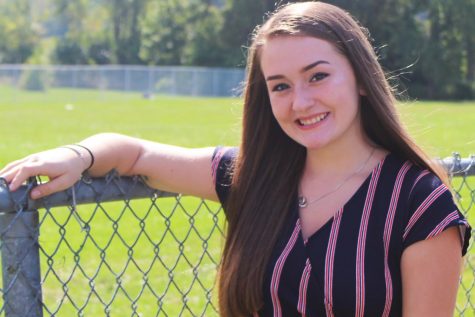 Krista Staley, Opinion Editor

Birthday: March 25, 2001
Hobbies/Interest: Writing, reading, and painting.
Favorite Quote: "Those people who tried to bury you didn't know...