Rose shares her favorite hip-hop songs of 2017
Hang on for a minute...we're trying to find some more stories you might like.
Over the course of 2017, new music has come sprinting out of recording studios. Here are some of my favorite hip-hop songs from this year.
"Humble" – Kendrick Lamar
This song was released on March 30. It reached the top of the charts shortly after and remained at the top for many weeks.
Lamar raps to an intense trap beat and criticizes the music and entertainment industry.
This song represents the movement for racial equality and black power.
Lamar raps about how everything is so fake and not natural in the music and entertainment industry anymore in lines like this: "I'm so (explicative) sick and tired of this Photoshop, show me something natural like afro on Richard Pryor."
He also talks about how black women try to hard to change themselves by getting weaves and experimenting with plastic surgery. His response is "sit down" and "be humble."
"Bodak Yellow" – Cardi B
This song came out June 16. It is a rap song about how Cardi B was once an exotic dancer, dancing for money, and now she doesn't have to dance because she makes "money moves."
She brags about how much money she has now and that she doesn't have to pick and choose between two things anymore because she has a lot of money: "I can get em' both, I don't wanna choose."
"Tunnel Vision" – Kodak Black
This song was released Feb. 17, and it hit the topic of racism right on the head.
In the music video, it shows a white man with a hat that says, "Make America Hate Again."
This symbolizes President Trump, who Kodak Black believes promotes hate against certain races.
"They wanna see you in the penitentiary," he sings, meaning that white America wants to see black men in the prison systems suffering for crimes they didn't commit.
"Bank Account" – 21 Savage
This song came out on July 6 and is another song about money, which isn't surprising.
This one has a catchy beat.
The chorus goes: "I got 1, 2, 3, 4, 5, 6, 7, 8, M's in my bank account."
This is the part of the song that when someone hears it they will sing along because its so catchy.
Throughout the song 21 Savage talks about all the extravagant things he can buy with all the money he has: "'Rari matte black and I got a Bentley with me."
"Young Dumb & Broke" – Khalid
Released on March 3, this song reached the top of the charts by the end of the year.
With the catchy chorus and mesmerizing music, it's easy to see why it's so popular.
Khalid is only 19, so many young people can relate to him and his lyrics.
"Young dumb broke high school kids" is a relatable lyric for many teens.

About the Writer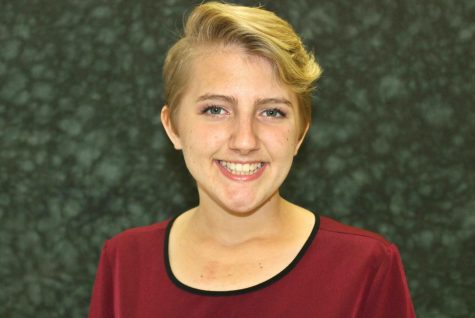 Emily Rose, Reporter/Social Director

Birthday: September 12, 2000
Extracurricular activities: Theater
Hobbies: Painting, theater, and making memes.
Plans after high school: College
...