Upperclassmen excited to be inducted into NHS
Hang on for a minute...we're trying to find some more stories you might like.
National Honor Society will be inducting the juniors and seniors who met the required criteria on Thursday, Nov. 16.
In this formal event, NHS acknowledges the academic achievements of these students.
Once inducted, students must keep a 3.5 GPA or higher, complete 15 hours of volunteer work, pay $5 in dues each semester, have good citizenship, and attend meetings at 6:45 a.m. once a month.
Violation of any of this may result in removal from the program.
The senior class officers — Madison Jordan, president; Kaylee Hill, vice president; Maikayla Josling, treasurer; Kaylee Brookman, secretary; Shannon Chamberlain, historian — run NHS.
It is an honor to be inducted due to the hard-to-meet requirements of NHS.
Junior DeMia Johnson is anticipating the induction ceremony.
"I'm really excited because it's something I've always wanted to be a part of," Johnson said. "It's an honor that I can be."
Junior Tyler Gronauer is also excited to be a part of NHS.
"I think it's a really cool opportunity," Gronauer said. "With NHS being nationally recognized, it's a good thing to have under my belt when I apply for college. It's also pretty exciting to be involved with my community, helping to better it."
The senior inductees are as follows:
Jennifer Fraley, Alex Eible, Barbara Hawes, Brianna Horne, Kaitlyn VanOoteghem, Jack Vollmar, and Sydney Wharram.
The junior inductees are as follows:
Gloria Arambula-Mercado, Mariah Ash, Abbigale Bellmer, Joshua Bischoff, Emma Bishoff, Melinda Blaine, Shelby Boyd, Madison Burroughs, Grace Chandler, Chloe Clarambeau, Chloe Clark, Kaylee Coffer, Ania Cox, Anijha Cox, Keegan Cummings, Mickeely Dias, Ariel Desjardins, Isabelle Easton, Lindsay Flynn, Briahna Greer, Tyler Gronauer, Joshua Gunther, DeMia Johnson, Iylana Kelso, Stephanie Lane, Kyle Langworthy, Nathaniel Maxwell, Heather McNeill, Claudia Moore, Halle Parish, Autumn Prescott, Madeline Raysin, Jenna Robinson, Braden Schott, Mallory Simms, Brooklynn Smith, Jacee Sword, Stephen White, Nickolas Williams, Chloe Vollmar, and Gabriella Younger.

About the Writer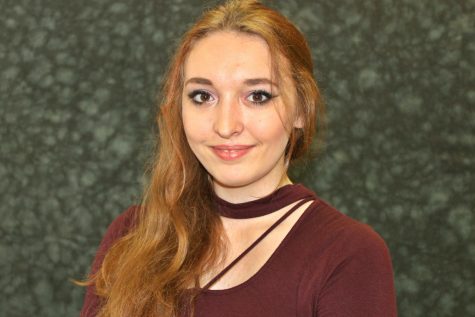 Brianna Horne, Editor in Chief

Birthday: May 11, 2000
Extracurricular activities: Newspaper
Hobbies: Playing violin, hanging with her friends and boyfriend, and horseback riding.
...